China Slowdown Fuels Uncertainties For Chile's Copper Industry, Violent Labor Strife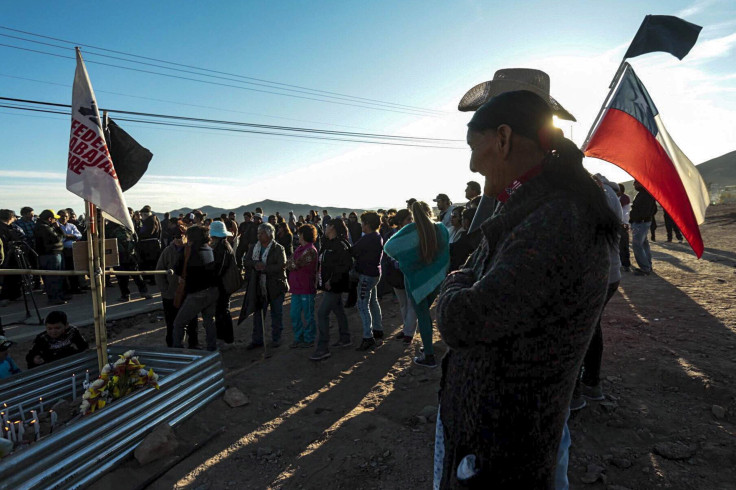 More than ten thousand miles from Beijing, in the barren plateau of Chile's Atacama Desert, beleaguered miners are feeling the impact of China's economic slowdown.
"This is a very, very difficult moment for countries that had banked on commodity exports to China," says Cynthia Arnson, the director of the Latin American Program at the Woodrow Wilson Center for International Scholars, a Washington-based think tank.
Indeed, the economy of a nation that is by far the world's largest copper producer relies heavily on the ductile metal. It makes up about half of Chile's exports, and 40 percent of those shipments flow to China. But as Chinese demand has fallen -- the result of a now-cooling construction and real estate boom -- so, too, have prices for the commodity. That has cut into the profits of mining companies. And now, they're asking workers to help pick up the tab.
The Chinese slowdown looms over high-intensity contract talks between Chile's state-owned mining company and the miners' union, fueling tension that has boiled over into protests, strikes, violence and, occasionally, death.
Late last month workers went on strike at seven state-owned mines, shutting down two with barricades. In the early hours of July 24, police special forces stormed the barricade at the El Salvador Mine -- at one point firing a shot that killed miner Nelson Quichillao Lopez -- ramping up mutual feelings of distrust and animosity.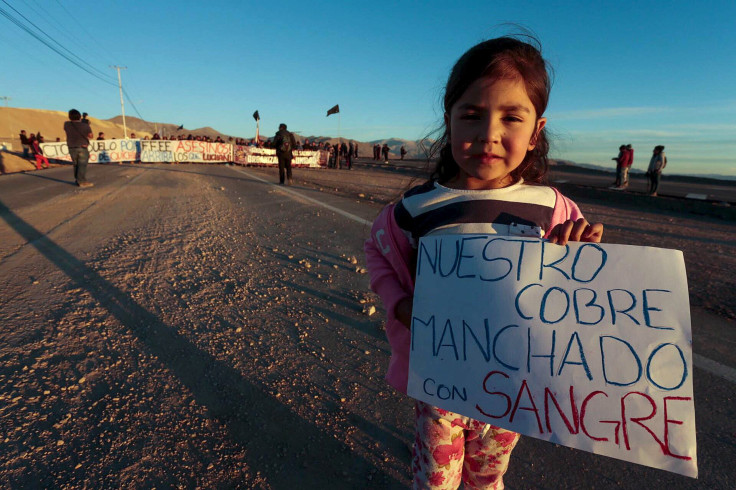 From the perspective of industry, it's time for some uncomfortable belt-tightening. Calling for labor peace after the escalation of financially damaging strikes last month, the president of state-run copper giant Codelco criticized the generous terms of the company's last labor agreement -- forged during an industry growth period of 2013. "A rise in these benefits and their associated costs aren't compatible with the current conditions of the copper market, of the economic reality of the country and the sustainability of structural projects," Nelson Pizarro said, in Spanish.
The miners' union blasts that line of reasoning and says Codelco -- the world's largest copper company -- can easily afford to swallow the decline in revenue instead of kicking over the bill to its workforce. In a press release last month, in Spanish, the union accused the company of "hiding" the fact that "during the great copper bonanza," most of the wealth flowed into the "pockets of the company."
Either way, national authorities are on watch. Copper prices have fallen 51 percent ($4.59 to $2.24) from a peak hit in February 2011, according to Commodity Exchange data.
On Thursday, the country's finance minister said that Chile would be forced to borrow money on international markets amid declining state revenues.
"We're entering a period in which we'll have very little revenues from copper," Rodrigo Valdes told a national television station on Thursday. "That means we'll have a bigger deficit and will need to borrow some funds."
Arnson says Chilean authorities are, to some degree, equipped to handle this sort of downturn. "It has solid financial institutions, an independent central bank and has also made efforts to move up the value chain into processing of primary commodities," she says. "With that said, the structure of the Chilean economy has not changed all that much."
But it's not alone, she says. Other countries are hurting from the downturn, like Peru, which also exports metals to China, and Argentina and Brazil, which both export soy to China.
"I don't think any country in Latin America has done enough to diversify the base of support," she continues. "Every major commodity and food exporter in the region is feeling the effect."
© Copyright IBTimes 2023. All rights reserved.