China's 'Historic' Free Trade Accords With Australia And South Korea Seen As Providing Economic Boost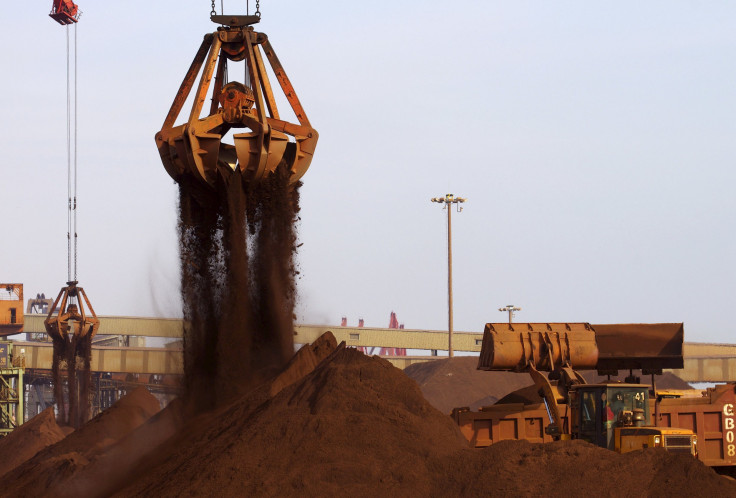 SHANGHAI -- China has launched new Free Trade Agreements with South Korea and Australia, which officials on both sides say will be worth billions of dollars. The accords, seen as two of the most significant China has reached with other countries, could provide a boost to China's trade at a time of falling exports and imports. China is the largest trading partner of both South Korea and Australia.
Chinese officials have also said the deals will pave the way for more such accords, as China seeks to mitigate the impact of the recently signed U.S.-led Trans-Pacific Partnership (TPP) — which Chinese experts have said could potentially wipe between 1 and 2 percentage points off the country's GDP growth rate.
"This historic agreement with our biggest trading partner will support future economic growth, job creation and higher living standards through increased goods and services trade, and investment," Australian Trade and Investment Minister Andrew Robb said in a statement Sunday.
Robb said more than 86 percent of Australian exports to China would now be tariff free — with the figure eventually due to rise to 96 percent.
The deal with South Korea will see China remove tariffs on 91 percent of Korean products over the next 20 years, while Seoul will eliminate tariffs on 92 percent of Chinese goods. Experts in South Korea have said the deal will boost the country's GDP by 1 percentage point over the next decade.
Chinese media said tariffs on more than 2,400 items imported from Australia and 1,649 items from South Korea were cut to zero on Sunday. Australian wine and meat and South Korean electronic goods and skin care products are expected to receive a boost in the Chinese market. Chinese consumers have shown themselves willing to pay a premium for imported food, seen as safer than domestic products, and for foreign brand name electronics. Chinese household electronic goods will also become cheaper in Australia, while officials have said Australian manufacturers will also benefit from cheaper Chinese-made components.
However, consumers may not immediately see a dramatic fall in prices. Australian experts have said the deal may enable Australian producers, of for example, beef, to raise export prices, which they previously had to cut to compete with exports from countries such as New Zealand, which already had free trade deals with China.
China's ministry of commerce has described both deals as among the "most extensive" the country has ever signed — with the Australian accord singled out for its clauses on "investment liberalization." Resource-rich Australia is already China's second-largest destination for overseas investment — Chinese businesses have already concluded a number of mining and minerals investments in the country, and Australia's mining sector has welcomed the deal as a "watershed."
However, there has been controversy in Australia about clauses allowing up to 5,000 Chinese citizens a year to get "working holiday" visas for Australia, with unions and workers' groups warning it could lead to cheap labor undercutting Australian workers' jobs.
In 2014, bilateral trade between China and Australia was worth $109.72 billion, according to official Chinese figures. And experts say there are likely to be increased ties in areas including services in future.
From China's point of view, analysts say, the tariff cuts may help the government's attempts to reduce the quantity of illegal imports — where customers buy online through unofficial channels to evade tariffs — and also to encourage citizens to buy foreign goods in China rather than on trips abroad.
But China's ministry of commerce also said last week that the deals would help pave the way for further accords.
"These two FTAs will help speed up negotiations on other FTAs and the Regional Comprehensive Economic Partnership (RCEP)," Shen Danyang, a spokesman for the ministry, told the China Daily newspaper.
China has also been trying to create a trilateral FTA between itself, South Korea and Japan, and to wrap up the RCEP accord with 10 Association of Southeast Asian Nations (ASEAN) member countries, and South Korea, Japan, India, Australia, and New Zealand. Further progress on the deal is expected next year.
The moves are seen as a counter to the Trans-Pacific Partnership recently signed by 12 nations following talks in the U.S. Experts have warned that the TPP could hit China's economy hard. Shen Dingli of Shanghai's Fudan University told International Business Times recently that it could knock 1 to 2 percentage points off China's GDP growth — which has already slowed this year, to 6.9 percent in the last quarter, compared to 7.3 percent for the whole of 2014.
China is already losing some manufacturing to countries which have Free Trade Agreements with the U.S. and European nations — such as Cambodia and Bangladesh. China currently has 14 FTA partners, including New Zealand, Chile and a number of Southeast Asian nations. Its only European partners so far are Switzerland and Iceland. However, Beijing is currently seeking to negotiate a free trade deal with Norway.
© Copyright IBTimes 2023. All rights reserved.