Chinese Aircraft Carrier Liaoning Docks At Hainan After Sailing Through Disputed South China Sea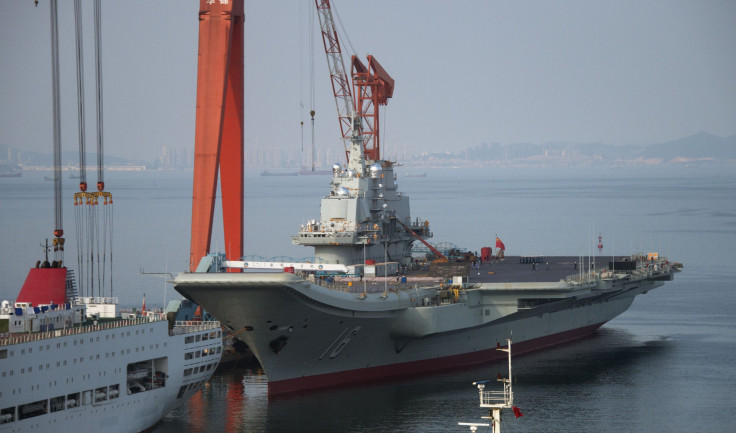 China's first aircraft carrier Liaoning docked at a naval base in the southern Chinese province of Hainan after conducting open-sea training exercises in the Western Pacific, Taiwan said Tuesday. The carrier led a group of warships and sailed 90 miles south of the Taiwan-controlled Pratas Islands in the disputed South China Sea, fuelling tensions between the two countries.
On Tuesday, Taiwan warned "the threat of our enemies is growing day by day," as the Liaoning sailed towards Hainan through the contested region, according to Reuters.
The carrier was commissioned by the Chinese navy in 2012 and Beijing said last month the vessel was geared up to engage in combat. The Liaoning was reportedly bought as an incomplete hull from Ukraine over a decade ago.
A Taiwanese military official told Reuters that China had been examining the carrier's systems and coordination with other military equipment and its docking did not mean its drills were over. The carrier's exercises prompted Taiwan to put its air and naval forces on high-alert.
Last Friday, the Chinese military announced that the carrier performed a series of fighter launch, recovery and air combat drills slightly farther afield in the Yellow Sea. The following day, it reportedly conducted training in the East China Sea.
Tensions between China and Taiwan were inflamed recently after President-elect Donald Trump spoke on the phone with Taiwanese President Tsai Ing-wen. Since 1979, the U.S. has officially supported China's claim over Taiwan and has maintained only informal relations with the island.
The aircraft carrier's drills also follow a report earlier this month that said Beijing had built large defense systems on the South China Sea's disputed Spratly Islands. The Asia Maritime Transparency Initiative, a branch of the Center for Strategic and International Studies that started tracking China's island buildup over the summer, posted seven photos — dated between Nov. 10 and Nov. 29 — showing several hexagon-shaped structures, evidence of "buried chambers" and platforms "consistent with the pattern of larger anti-aircraft guns."
© Copyright IBTimes 2023. All rights reserved.
FOLLOW MORE IBT NEWS ON THE BELOW CHANNELS