Chinese Navy Successfully Lands Fighter Jet On Its First Aircraft Carrier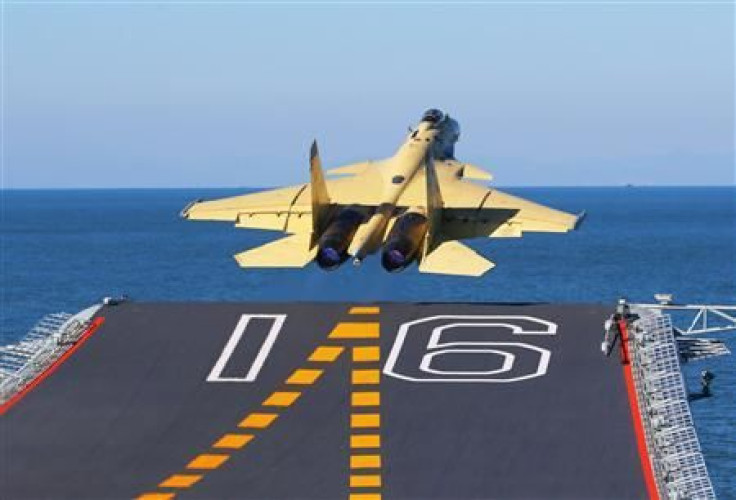 China has taken a major symbolic step forward in terms of its waterborne military capability by completing the first successful landing of one of its fighter jets on its first aircraft carrier, Reuters reported Sunday, citing state media.
The fighter jet, a Chinese-built J-15, landed on the Liaoning aircraft carrier, a Soviet-era vessel China purchased from Ukraine and repurposed to fit its needs. The Liaoning first entered service in China this September.
China apparently did not divulge the date of the test, but photographs provided to Reuters indicate the J-15 did, in fact, successfully take off from and land on the aircraft carrier. As a result, Wired claimed, "China joins an exclusive club of just five other nations -- the U.S., Russia, France, India and Brazil -- that operate full-size carriers with fixed-wing planes."
According to the Chinese government, the J-15 fighter jet is roughly comparable, in terms of equipment and performance, to the American F-18, and the Russian Su-33 on which it is based. All three jets are capable of hauling antiship, air-to-air, and air-to-ground missiles.
Speaking at the 18th Communist Party Congress in Beijing this month, outgoing Chinese President Hu Jintao promoted the country's buildup of more advanced armed forces.
"We should make active planning for the use of military forces in peacetime, expand and intensify military preparedness, and enhance the capability to accomplish a wide range of military tasks, the most important of which is to win local war in an information age," Hu was quoted as saying by Reuters.
The news agency noted China's recent success in landing one of its fighter jets on its first aircraft carrier has come after a long series of double-digit percentages increases in military spending. The country boosted the military budget by 12.7 percent last year and hiked it another 11.2 percent this year, bringing outlays on the People's Liberation Army to 670.3 billion yuan ($100 billion) for 2012.
© Copyright IBTimes 2023. All rights reserved.