Christian Siriano En Pointe With Ballet-Inspired Spring 2013 Collection At New York Fashion Week [PHOTOS]
As the fashion choreographer of the afternoon, designer Christian Siriano was en pointe in the execution of his ballet-inspired Spring 2013 collection at New York Fashion Week. In his notes, the fourth season winner of "Project Runway" cited the American Ballet Theatre and the "whimsical movement" of "Dream Ballet."
"I was drawn to the costumes worn by the dancers; each layer of colored tulle on top of the next created a mix of colors blending together," Siriano said, which evoked the memory of Edgar Degas' "Three Ballet Dancers" of 1879.
Siriano développéd his collection so that pieces would "feel as light, soft and romantic as the dancers on the stage and in the painting, but modern enough to be wearable by today's elegant woman."
Eyebeam Atelier was the stage in which revelers assembléd having piquéd the interest of front row fixtures like Brad Goreski filming a reality series, Julie Henderson, Monet Mazur, Anna Chlumsky and Natasha Bedingfield to see the designer's ninth showing at New York Fashion Week, which according to daily fashion bible Women's Wear Daily was "his most sophisticated and wearable collection" to date.
The principal models chasséd down the runway to music by Brad Walsh wearing everything from classic crew necks to tiered tulle evening gowns in a color palette of pale pink, seafoam, light mint, ivory and pearly white. The show began with work appropriate jackets, peplums and pleated cropped and tuxedo pants moved to short, romantic cocktail dresses in mild metallics and ballet prints to flowy maxi gowns and flouncy overlay dresses. But a ballet collection wouldn't be complete without a promenade of full tulles and embroidered applique beading; The finale consisted of three models in a pas de trois in similar tutu-style dresses in pink, seafoam and off-white watercolor, to which the audience gasped audibly. The collection couldn't be a further changement from last season, which was designed after the 1933 quirky horror film "Vampire Bat" full of oxblood red and vampy black leather.
The corps de models wore their hair in traditional ballerina buns by Aveda with pink dewy makeup to fit the theme by MAC Cosmetics. Most notably, Siriano debuted 10 different shoe designs, ranging from a regal "estate shoe" with large crystal rhinestones which Siriano called "jewelry for your feet" to a "d'orsay-meets-Mary Jane" to slinky bejeweled slingbacks to his interpretation of a "ballerina oxford" sneaker, the première time the designer featured flats in his runway show. Siriano said the shoes seen on the runway will inspire his Spring 2013 Christian Siriano for Payless Gold collection, which will hit stores in February next year. Siriano first created a diffusion line of shoes for Payless in 2009 and since has been the top-selling design collaborator the Topeka, Kan.-based brand has ever worked with.
But that's not all the virtuoso Siriano debuted on Saturday; In a partnership with Proper Attire and the Planned Parenthood Federation of America, Siriano created the packaging for a line of condoms utilizing designs from the Spring 2013 collection to relevé awareness for safe sex. And of course, the audience all received a trio of the condoms in sheer, dots and color designs in the goodie bags.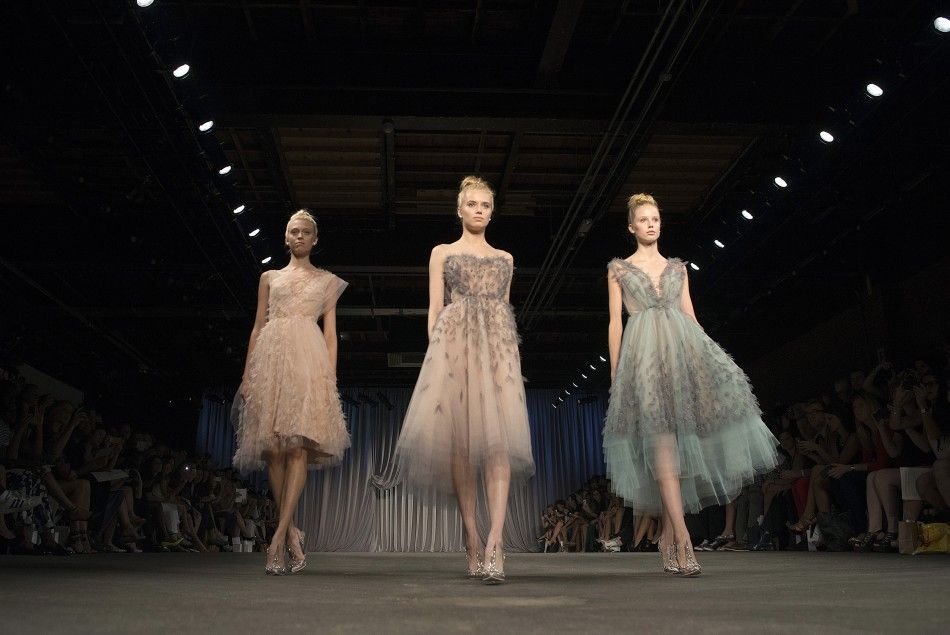 © Copyright IBTimes 2023. All rights reserved.