Christy Mack Thanks Fans For Support; War Machine's Jail Blog Shows Troubled Past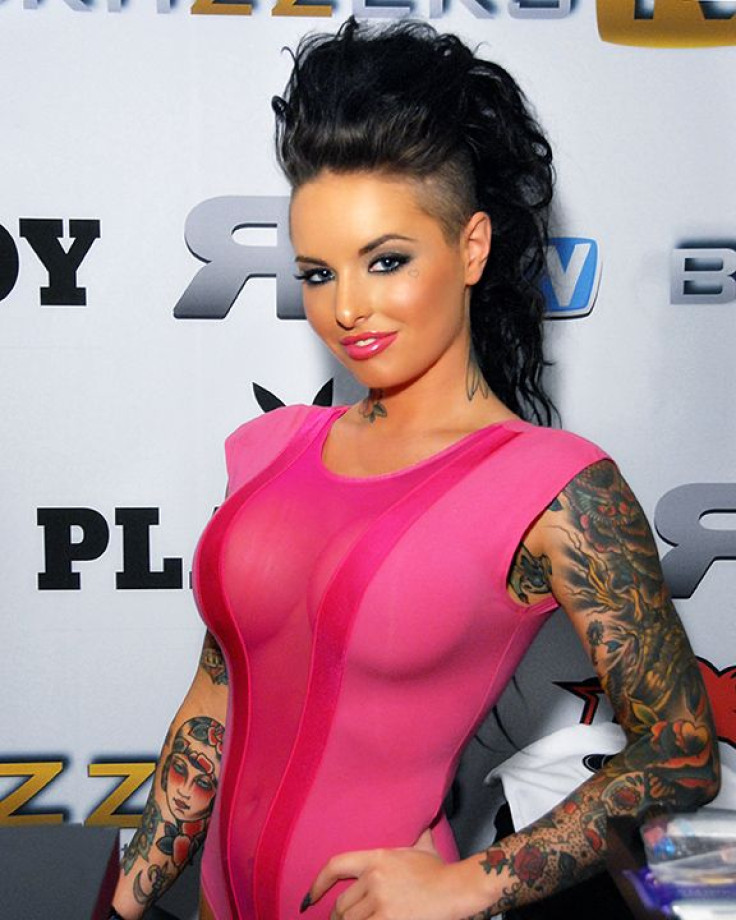 A brutal attack early Friday morning left adult film actress Christy Mack in critical condition. The 23 year-old was hospitalized after Mack's ex-boyfriend and professional fighter War Machine, 32, entered the star's home uninvited and found the actress with a male friend. War Machine, also known as Jonathan Koppenhaver, then allegedly attacked Mack, leaving her with 18 broken facial bones, broken ribs and missing teeth. Mack is currently unable to speak and is suffering from a ruptured liver.
Mack's online fans began to worry on Friday evening when the 23 year-old took to Instagram and Twitter to cancel her weekend appearance at the Art-N-Ink Tattoo Festival in Las Vegas. She regularly uses social media to communicate with fans and has nearly 2 million followers combined on both sites. Mack told disappointed followers that she had a personal emergency and would not be able to attend the annual event. A Las Vegas local news site was the first to report on War Machine's brutal attack, though the initial report didn't confirm that Mack was the victim, simply claiming that the person harmed was the fighter's "significant other."
During the weekend, thousands went online to contemplate what exactly transpired between the former couple early Friday morning. Because Mack is a porn star, many users claimed she "probably deserved it." Others speculated the actress was cheating on Koppenhaver, and that he found her in bed with another man. On Monday, Mack released a statement, including four photos of the result of her attack.
"My injuries include 18 broken bones around my eyes, my nose is broken in 2 places, I am missing teeth and several more are broken. I am unable to chew, or see out of my left eye," the actress said. "I have a fractured rib and severely ruptured liver from a kick to my side. My leg is so badly injured I have not been able to walk on my own." Mack also said Koppenhaver broke up with her months ago and have moved back to San Diego.
Adult film star Jenna Jameson, 40, weighed in on the incident via Twitter, responding to negative tweets and addressing Koppenhaver directly. Jameson had a previous relationship with UFC fighter Tito Ortiz, who she claims abused her.
War Machine has yet to turn himself in, but has served prison time twice before. In 2010, he was sentenced to one year in county jail for a felony assault conviction that took place during a bar fight in a San Diego neighborhood. During his incarceration, he regularly updated a blog, which revealed a violent and troubled psyche. Koppenhaver was sent back to jail in 2012 and released in October of the same year. He also kept a blog account of his second round of imprisonment:
"So it's Christmas day and I'm laying in my bunk wondering Why in the hell do American men get married!?' As I write this, there is one guy in here for slapping his wife, one here for yelling at his wife, and one here for beating some guy's ass that disrespected his wife. WTF!? If your wife is being a b***h you can't slap her, if your wife is yelling at you, God forbid you yell back, and if some a**hole hurts your wife, you can not protect her! LMFAO! What in the F**K! is REALLY going on!? Next thing you know it will be illegal to f**k your wife! This country forces you to be a b***h! And then if you resist, you go to jail! And if you give in and become a passive lil' pansy, your wife is gonna sneak around and get f**ked by someone like a single War Machine! HAHA! And believe me, in my day, I have f**ked more than one wife who complained about being "sick and tired of wearing the pants in the family." De-masculated men left and right, mere sheep for the cowards in political offices to boss around and PLAY tough with. A country that preaches "Violence solves nothing" to it's masses, but is eager to run off to war with ANY and EVERY country, who refuses it's verbal bullying."
Like Mack, War Machine is active on Twitter, and he paints himself as the victim in the incident on Friday.
Mack is offering a $10,000 reward for the capture of War Machine and recently thanked her fans for their support on Twitter.
© Copyright IBTimes 2023. All rights reserved.
FOLLOW MORE IBT NEWS ON THE BELOW CHANNELS