Chuck Norris Joins Donald Trump In Endorsing Netanyahu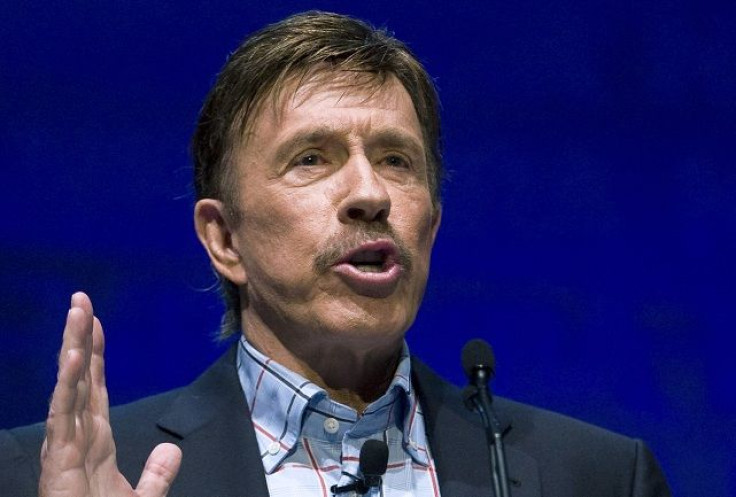 Chuck Norris, Donald Trump and Benjamin Netanyahu walk into a bar. ... No, that's not actually the beginning of a joke, but it could be a real-life story now that Norris has become the second prominent right-wing American to muscle his way onto the Israeli political stage with an endorsement, out Thursday on YouTube, for Prime Minister Benjamin Netanyahu in next's election.
"Hello, this is Chuck Norris. With the elections just days away, Israel has an important decision to make, so let me tell you what Chuck would do," the action star, a paladin of the American right, says in the video.
"You might think I'm a tough guy in my films, but in a rough neighborhood like the Middle East, Israel has his own tough guy. His name is Bibi Netanyahu," Norris gushes, days before the Jan. 22 election.
"Bibi brought the pressing issue of Israel's security to the world, speaking loudly and clearly to the United Nations and in Congress, bringing the world together to put sanctions on Iran.
"He has raised a wall along the whole southern border of Israel, stopped the missiles from raining on Israel, and showed Hamas they will not be tolerated. He also made the bravest decision in securing the release of Gilad Shalit [a kidnapped Israeli soldier held in Gaza].
"So vote for Benjamin Netanyahu, because a strong Prime Minister is a strong Israel.
"I'm Chuck Norris, and I endorse this message, and Benjamin Netanyahu, a strong prime minister."
In the video, produced by one of Likud's foremost political consultants, Jonny Daniels, Norris appears in a series of still photos, posing in a cowboy hat, with an SUV, and in a leather vest with his fists at the ready.
The Hollywood actor, best known for his tough-guy roles in 1970s and '80s action movies, has recently taken to the political stage as a major player for the American tea party. During the 2012 U.S. presidential election, Norris released his own attack ad on President Barack Obama, in which he called on evangelical Christians to get out the vote and stop "socialism."
Norris doesn't have as strong a financial connection to Israel as his predecessor in endorsing Netanyahu, Donald Trump, but is a known supporter of the country, and was invited by Danny Danon, a member of the Knesset, Israel's parliament, to visit in September 2012.
Norris also starred in the 1994 movie "Hellbound," which was filmed and took place in Israel.
Netanyahu and his right-wing Likud Beiteinu alliance are expected to capture enough Knesset seats to form a government with allies. They certainly won't be hurt by an endorsement by Norris, who -- like Trump -- is popular in Israel, where he isn't subjected to the ironic scorn of liberals, who make online lists of ridiculously exaggerated "Chuck Norris is so tough that..." feats. Depending on how the election goes, there may soon be another achievement to add to those lists: Chuck Norris is so tough that he wins Israeli elections single-handedly, and doesn't even have to be there.
© Copyright IBTimes 2023. All rights reserved.