Citi, Deutsche Bank, Bank Of America Were Channels For Sending Drug Money To Colombia, Court Filing Shows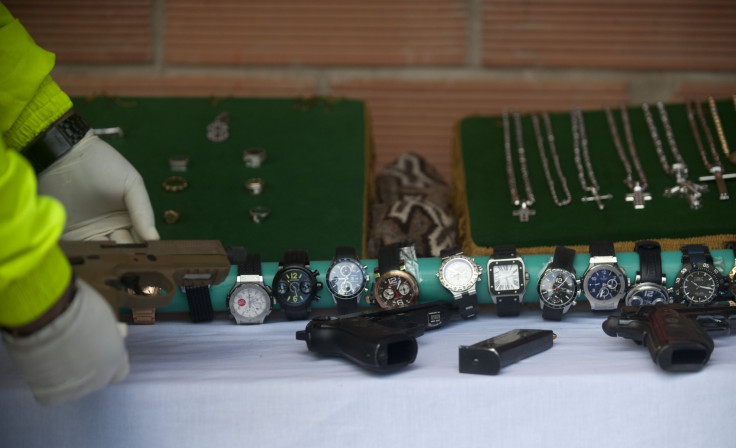 U.S.-based accounts at Citigroup Inc. (NYSE:C), Deutsche Bank AG (ETR:DBK) and Bank of America Corp. (NYSE:BAC) were used to channel tens of millions of dollars' worth of global drug money that was sent to shady Colombian currency brokerages, an affidavit from an undercover Massachusetts detective obtained recently by 100Reporters says. The revelation comes as the U.S. Justice Department has been laying down record penalties against some of the world's largest financial institutions for trade-sanction and money laundering violations.
Representatives at the banks declined to comment to International Business Times.
The affidavit by Jaime X. Cepero was filed in August 2013 as part of a four-year investigation by federal authorities in the wake of a 2011 Boston-area sting operation that exposed a global narcotics ring, netting $200 million and 20 suspects. The investigation led to the extradition of 12 suspects from Colombia and 15 guilty pleas. Cepero had been detailed to a U.S. Drug Enforcement Administration task force that oversaw the operation. The affidavit was submitted as evidence last year as part of an investigation by the Internal Revenue Service. In some instances, he said, the banks had reported suspicious activity to the U.S. Treasury Department as required by law, but not in all instances.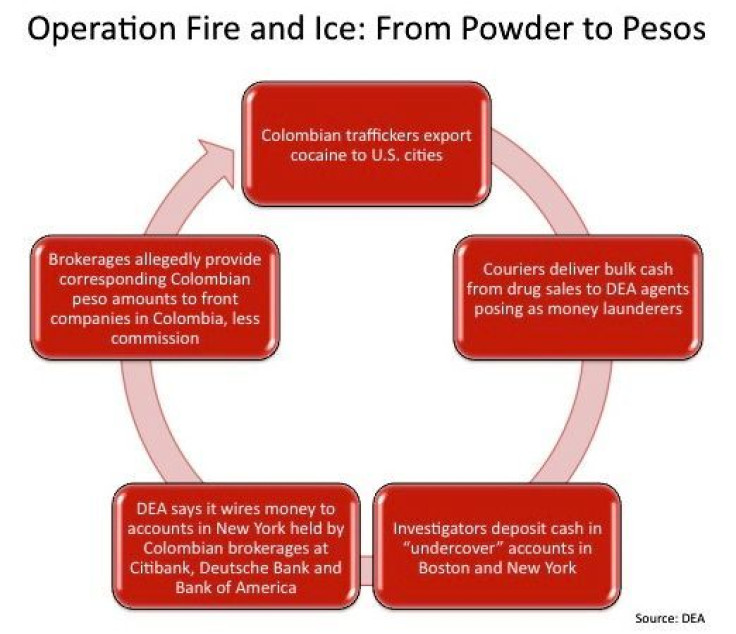 The document not only identifies the three banks by name but also offers a glimpse into the action-movie-like efforts narcotics traffickers used to channel global proceeds from the sale of cocaine and heroin through the United States. Couriers would sometimes stash heat-sealed bundles of currency in secret compartments of parked cars in suburban U.S. parking lots. Similar cash transfers took place on busy streets in major U.S. cities, including New York, Los Angeles, Houston and Orlando, Florida. The affidavit says one transfer took place in Rome where the cash was covered in visible cocaine residue.
The money would then be deposited, in some cases by undercover anti-narcotics agents as part of the sting operation, into accounts held by Colombian brokerage houses at the three banks in Boston and New York. These front companies would then transfer the cash to local shell companies in Colombia in the local currency to be retrieved by the operative of La Oficina de Envigado, the drug cartel that emerged from the ashes of the Medellín Cartel, which collapsed in the early 1990s.
The Treasury Department issued a warning in 2006 that Mexican and Colombian exchange houses were at high-risk of being front organizations for money laundering operations. Like banks, these brokerage houses are often used to handle money transfer operations from expats sending money home. Banks have been subjected to record fines in recent years for allegedly laundering drug money and violating trade sanctions. Last year HSBC Holdings PLC (LON:HSBA) was slapped with a $1.9 billion fine for enabling drug cartels to launder billions of dollars. In June, BNP Paribas SA (EPA:BNP) agreed to pay $8.9 billion for transferring funds out of Sudan and other countries under U.S. trade sanctions.
In many cases banks are allowed to pay fines without admitting guilt, and individuals inside these banks rarely go to prison for enabling drug cartels and despots to move money around.
Note: This story originally misattributed the flowchart to the DEA. It should have been credited to 100Reporters (100r.org).
© Copyright IBTimes 2023. All rights reserved.