Clean Energy: Wind 'Megaturbines' Taller Than Skyscrapers On Horizon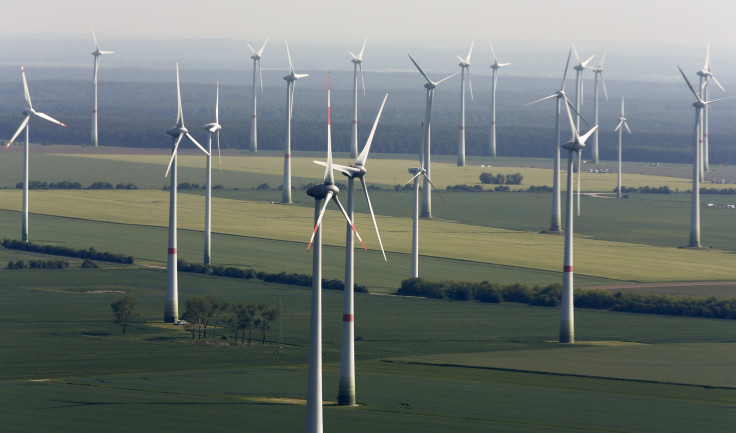 Offshore wind operators are hoping to make giant turbines the size of the Eiffel Tower, Reuters reported.
The companies — DONG Energy, EnBW and Vattenfall — told Reuters they were considering megaturbines to help keep the wind industry profitable as European governments decrease subsidies. Denmark, Germany, the Netherlands and Britain are planning to phase out subsidies over the next decade, which recently accounted for about half of Europe's wind income.
Read: Cheaper Solar, Wind Energy Make Trump's Promise To Bring Back Coal Jobs DOA, Forecast Predicts
The megaturbines will be 300 meters tall, about 984 feet, the size of the Eiffel Tower, and will have 200-meter (656 feet) rotor spans that will be as long as two football fields. Manufacturer Siemen Gamesa will have a megaturbine prototypes by next year, and the first farms could be running in the early 2020s, turbine makers and engineers told Reuters.
The megaturbines, which would harness more wind, could help reduce costs per megawatt. The giant wind turbines would generate 10-15 megawatts of power, compared to today's largest machines, which are 195 meters tall and generate 8 MW.
"We believe we can utilize [turbines] in the range of 13-15 megawatts," DONG Energy's Samuel Leupold revealed this month.
EnBW also said it was looking into megaturbines.
"Size is an important driver of efficiency," EnBW's Dirk Guesewell told Reuters. "Bigger rotors mean fewer turbines and foundations are needed to achieve the same capacity."
German company Senvion said it was developing megaturbines of more than 10 megawatts. Although the turbines are still in design stage, the company said it already was offering them for future use to offshore wind operators. Meanwhile, an engineer who works with various large turbine makers told Reuters designs nearly were finished across the sector and the process of producing the prototypes was about to commence.
Read: US Energy Sees Record-Breaking Wind And Solar Power Output
However, there are some technical concerns regarding megaturbines. The biggest is increasing the length of the blades without straining the structures that are installed on seabeds. Also, new and bigger factories will be needed when mass production of megaturbines begins.
The report comes after a recent Bloomberg New Energy Finance forecast said wind and solar power are expected to dominate the future of electricity. The forecast sees $7.4 trillion invested in new renewable energy plants by 2040. That figure accounts for almost three-quarters of the $10.2 trillion that will be invested in new power-generating technology worldwide.
When looking at Europe, the U.K. broke a record in renewable energy this month. The National Grid announced Great Britain's nuclear, wind and solar-generated power outperformed coal and gas combined. The U.S. also broke a record recently. The U.S. Energy Information Administration said 10 percent of all electricity generated in the country in March came from wind and solar power.
© Copyright IBTimes 2023. All rights reserved.