US Energy Sees Record-Breaking Wind And Solar Power Output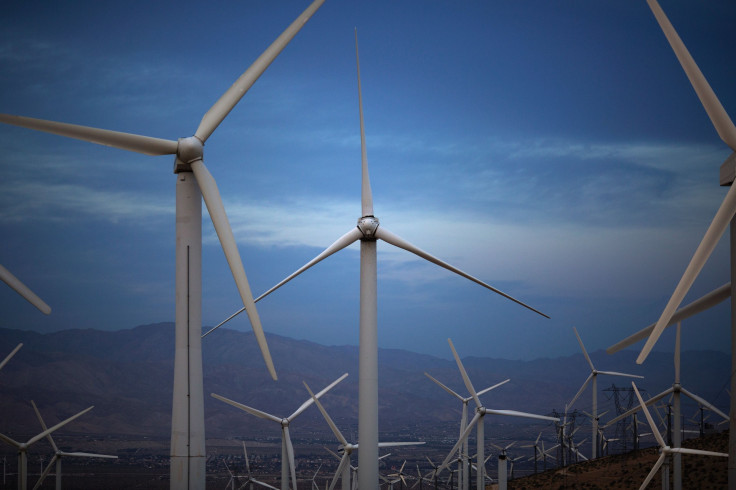 The U.S. has broken its own energy record: 10 percent of all electricity generated in the country in March came from wind and solar power, according to a recent report from the U.S. Energy Information Administration.
The number is up from last year, in which wind and solar power generated an annual average of seven percent of the country's electricity, the report from Electric Power Monthly shows based upon March.
Read: What Ice Age Fossils Can Teach Us About Climate Change Today
Christopher Clack, CEO of the firm Vibrant Clean Energy, said the recent milestone is a "critical stepping stone to the grid of the future."
"We have seen with our modeling that 30 percent plus over the U.S. on an annual basis from wind and solar is feasible, low-cost and reliable," he told International Business Times. "The additions of wind and solar have been lowering the cost of energy for customers and added reliability to the grids around the country. By 2020, we will likely see 10 percent or more on an annual basis."
Where and When Is Wind And Solar Power Generated?
Wind patterns are different, depending on the location. States like Texas and Oklahoma and others in the region typically have the highest output in spring months. But California wind-powered generators often have their highest output in the summer. Meanwhile, monthly solar output is highest in the summer no matter the location because of the longer daylight hours.
EIA predicts wind and solar power will generate over 10 percent of U.S. electricity in April 2017, and will decrease to less than 10 percent in the summer months. Since 2014, the agency has seen combined wind and solar generation reach its highest level in either spring or fall, since those seasons see a low electricity demand.
Texas generated the biggest amount of electricity from wind and solar power, annual data for 2016 shows. Most of the production was from wind, since the state is the biggest wind producer compared to other states, according to the EIA. In most states, wind usually makes up a larger amount of its total electricity generation than solar. However, California and Arizona had more solar generation than wind in 2016.
Trump And Wind Industry, Jobs
The report comes after President Donald Trump announced his decision to drop the U.S. from the Paris climate agreement.
Read: Trump May Not Like The Wind Industry, But It Now Employs More Than 102,000 Americans
However, the American Wind Energy Association (AWEA) doesn't see his decision harming the wind industry.
"Despite the decision today to pull the U.S. out of the Paris Climate Accord, the wind industry expects to continue as an American economic success story," said AWEA CEO Tom Kiernan in a statement. "Current policies will keep wind power growing rapidly through 2020, and we see many positive trends that will continue to drive demand."
Trump previously spoke against the wind industry before becoming president.
"It's Friday. How many bald eagles did wind turbines kill today? They are an environmental & aesthetic disaster," he tweeted in 2012.
However, the U.S. Bureau of Labor Statistics (BLS) said the fastest-growing occupations in America are wind turbine service technician jobs. U.S. wind power added jobs over nine times faster than the overall economy, according to a 2016 report by AWEA. The country saw a record last year, with more than 102,000 wind power-related jobs. In the next few years, the wind industry will account for 248,000 jobs, the report added. Between now and 2020, wind power is expected to create $85 billion in economic activity.
© Copyright IBTimes 2023. All rights reserved.