Tamir Rice Shooting: Officer Showed 'Lack Of Maturity' And 'Indiscretion' At Previous Department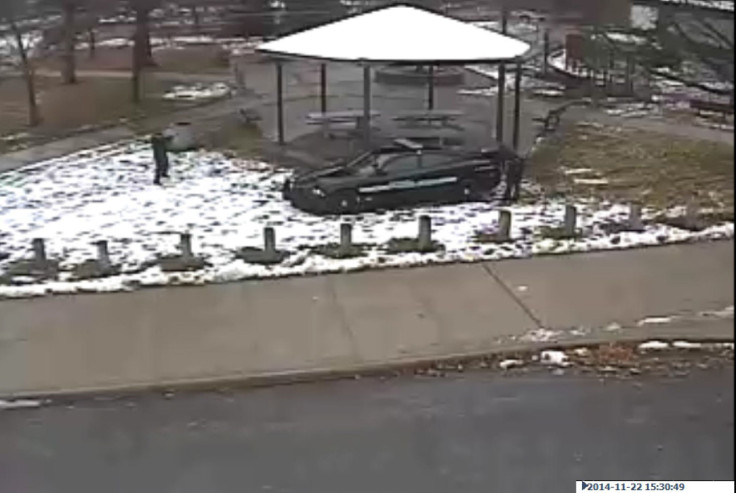 Tim Loehmann, the rookie Cleveland police officer who shot and killed 12-year-old Tamir Rice on Nov. 22, showed disturbingly poor poise and technique during a firearms qualification training exercise at a suburban police department in 2012, according to Cleveland.com. A 2012 letter penned by Independence Deputy Chief Jim Polak to Human Resources Director Joseph Lubin described 26-year-old Loehmann as being "distracted" and "weepy" during the training exercise and "was just not mentally prepared to be doing firearm training."
"He could not follow simple directions, could not communicate clear thoughts nor recollections, and his handgun performance was dismal. … I do not believe time, nor training, will be able to change or correct the deficiencies," Polak wrote. Polak went on to list a handful of other incidents that brought Loehmann's adequacy into question. Read the full Independence papers here. "Individually these events would not be considered major situations, but when taken together they show a pattern of a lack of maturity, indiscretion and not following instructions," he wrote.
Loehmann spent six months at the Independence Police Department before resigning and taking a position at the Cleveland Division of Police, because he sought "more action," according to his father. Security footage shows Loehmann shot and killed Tamir, who was holding a non-lethal airsoft handgun, about two seconds after getting out of a squad car to approach the boy over reports of an armed person in the area.
U.S. Attorney General Eric Holder will meet with police, officials and community leaders on Thursday in Cleveland, although it isn't clear if it is directly connected to Tamir's death. The DOJ has been investigating the Cleveland Division of Police since the shooting death of two unarmed black individuals in 2012, and Holder's visit may indicate the investigation is complete, according to Fox 8 Cleveland.
Holder has taken a leading role in representing the federal government in regard to recent racially charged incidents between black civilians and white police officers. He visited Ferguson, Missouri, following the shooting death of 18-year-old Michael Brown by a white police officer and is investigating both Brown's death and the death of Eric Garner, a black man from Staten Island who died after being put in an illegal chokehold by New York City police.
© Copyright IBTimes 2023. All rights reserved.
FOLLOW MORE IBT NEWS ON THE BELOW CHANNELS