#CNNBlackmail, Trump Trolls: Barrage Of Negative Reviews Tank CNN App Ratings
Following a report about the man behind the WWE/Donald Trump meme, supporters of the president and those who dislike mainstream media outlets are focusing their online efforts against one target this week: CNN. Among the tactics being used to hurt the TV news giant is a concerted effort to post thousands of one-star reviews and negative comments to bring down CNN app ratings.
The cable news network's pursuit and discovery of the Reddit user who created President Trump's July 2 anti-CNN wrestling tweet, "HanA**holeSolo," provoked a wide swath of outrage from pro-Trump internet groups. CNN's "KFile" team led by Andrew Kaczynski chose not to identify the "middle aged man" behind the Reddit account, which sparked accusations of extortion and the #CNNBlackmail trend that inaccurately claimed the user was 15 years old.
Even the president's son, Donald Trump Jr., tweeted: "So I guess they weren't effective threatening the admin so they go after & bully a 15 y/o? Seems in line w their "standards" #CNNBlackmail." Within hours, Twitter and Reddit users began claiming that the social network giants were subverting their tweets and removing the trending hashtag.
In order to fight back against this alleged mainstream media threat, Trump's most ardent online support groups – 4Chan, r/The_Donald and "Emperor Trump" Facebook pages – have taken to CNN's Apple and Android stores to down-vote the network's apps. Thousands of reviews have sprung up in the review sections of both the Apple and Android app stores ridiculing the content of the CNN news apps, rather than the functionality of the app itself.
"I got this app thinking it would help me be informed. Boy was I wrong! I felt myself getting stupider with each headline that I read. CNN has been taken over by social justice warriors, and all they do nowadays is perpetrate fake news," reads a July 5 Apple review from user "Praise Kek," utilizing a Pepe The Frog avatar and a username that references "Kekistan," a fictional country invented by 4chan's pro-Trump political posters.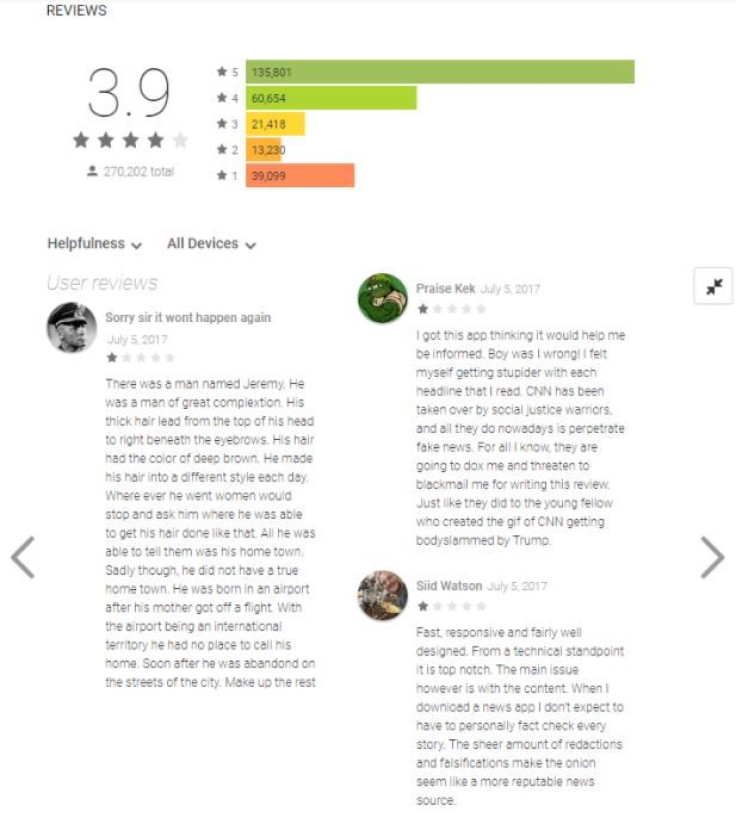 The CNNgo app for Android has been reduced to one-and-a-half stars as well, with a recent review from user Mike M. reading, "This is Fake News!"
Another top review on the Android apps from July 5 highlights that while the app is technically sound -- CNN's content is the reason for the one-star review.
"Fast. Responsive and fairly well designed. From a technical standpoint it is top notch. The main issue however is with the content. When I download a news app I don't expect to have to personally fact check every story. The sheer amount of redactions and falsifications make The Onion seems like a more reputable news source," reads user Siid Watson's review.
An Apple review reads, "CNN (CuckNewsNetwork) is singlehandedly the trashiest, most dishonest, baiting network to ever write a story. They take their guarantee of free press and attack others' rights with it… They recently censored a young man, who now is believed to not be responsible for these actions at all, and they threatened him with attacks."

The most recent of the one-star reviews littering the app store review sections is simply titled, "Worst Organization on the Face of the Earth."
The current 5.4 version of CNN's Breaking US & World News app, created by CNN Interactive Group, Inc., has fallen to a 1.5 star rating from the 4-star rating of its past versions which have not been subject to the negative comments. Several Facbook groups, including the 80,000-member "Emperor Trumps Dank Meme Stash," has several posts with a "call to arms" for the "Trump soldiers" to have concerted attacks on apps in order to avoid corporate censorship or blocking of their review comments.

Another arm of the pro-Trump, anti-CNN charge is Alex Jones' vastly popular conspiracy theory website, Info Wars. The website is currently hosting a $20,000 meme contest in which top meme will win the prize. The #CNNMemeWar" has attracted tens of thousands of entries and littered the internet with gifs and images showing Donald Trump attacking the CNN logo.
"CNN made the mistake of taking on the entire Internet," tweets Infowars' Paul Joseph Watson. "Buzzfeed next?" responds another Twitter user.
© Copyright IBTimes 2023. All rights reserved.