Weather.com Trolls Trump Over Paris Climate Agreement Decision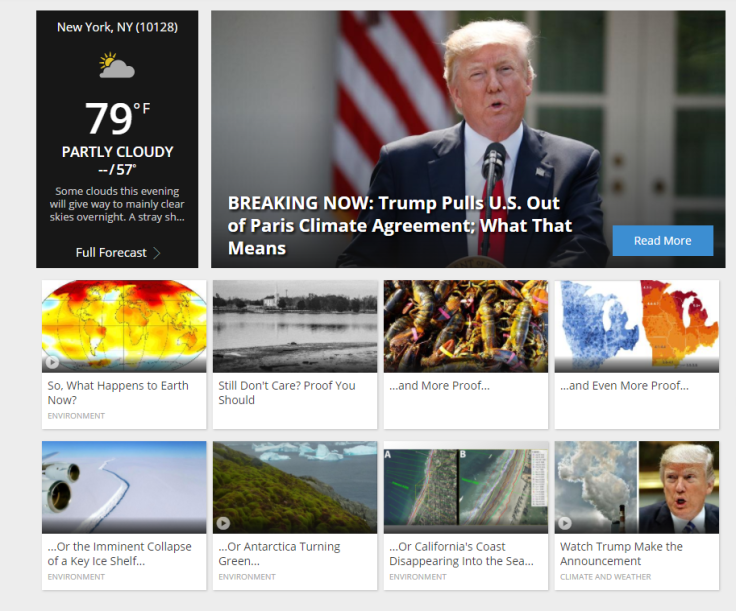 Weather.com trolled President Donald Trump after he decided he'd be pulling the United States out of the international Paris Agreement on climate change. As Trump made his announcement Thursday, the website altered its homepage in a rather tongue in cheek jibe at the president.
The website featured Trump's pronouncement as its main story. Right below, it featured eight of its most pertinent stories.
The headlines for the websites top eight stories read: "So, What Happens to Earth Now?" "Still Don't Care? Proof You Should" "…and More Proof…" "….and Even More Proof…" "…Or the Imminent Collapse of a Key Ice Shelf…" "…Or Antarctica Turning Green…" "…Or California's Coast Disappearing Into the Sea…" "Watch Trump Make the Announcement."
Read: Neil DeGrasse Tyson Slams Trump's Paris Agreement Decision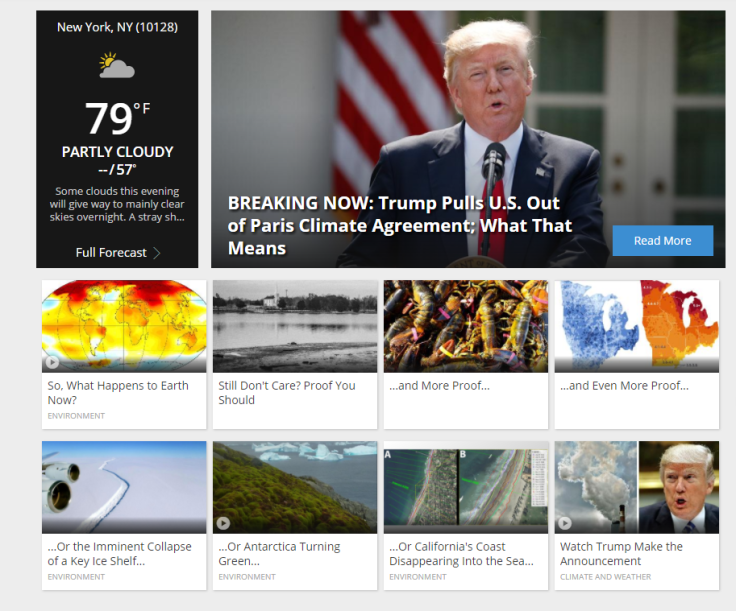 The websites dire message was echoed by many prominent environmental activists and politicians after Trump made the announcement. Former President Barack Obama released a statement just moments after Trump made the decision official.
"I believe the United States of America should be at the front of the pack," Obama said. "But even in the absence of American leadership; even as this Administration joins a small handful of nations that reject the future; I'm confident that our states, cities and businesses will step up and do even more to lead the way and help protect for future generations the one planet we've got."
© Copyright IBTimes 2022. All rights reserved.
FOLLOW MORE IBT NEWS ON THE BELOW CHANNELS