Company Connects Washington Salmon Escape To Solar Eclipse, High Tides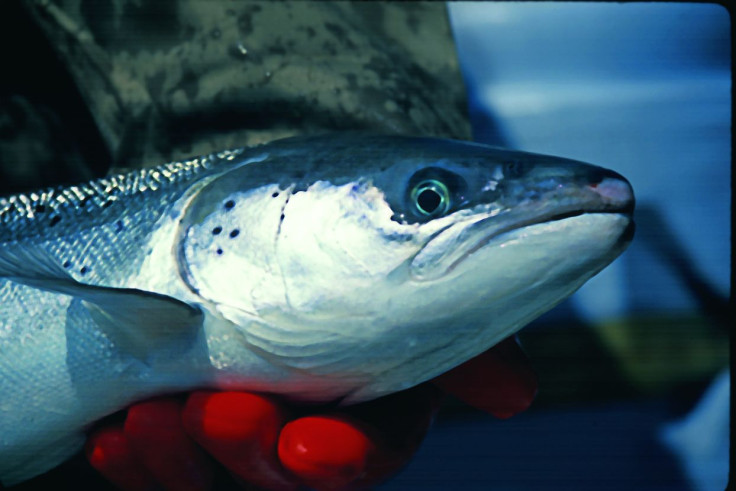 The Washington Department of Fish & Wildlife is encouraging anglers in the area of the San Juan Islands to fish for thousands of escapes salmon. The fish escaped from a net pen that failed in the Cypress Island area managed by Cooke Aquaculture.
The company is blaming "exceptionally" high tides and currents they say coincided with Monday's total solar eclipse for the net pen failure that resulted in the release of the fish, reported the Seattle Times. On Saturday, the anchor lines of the pens broke and then walkways to the pens tipped and employees couldn't get to the pens to assess the damage or how many fish had escaped. However, overhead footage from KIRO-TV shows extensive damage and even some dead fish.
The Vice President of Communications for Cook, Nell Halse, told the Seattle Times, "Our people are out there every day and that is what they have been seeing. The tides were extremely high, the current 3.5 knots. People can believe it or not." But preliminary measurements of the water levels from the National Oceanic and Atmospheric Administration show that water levels were about 7 feet on Friday Harbor on San Juan island near Cypress Island. This is what the levels were on the other days surrounding the incident as well.
Question of whether or not the tide and current could be to blame have been raised, as the spring tide during an eclipse is no different than a spring tide at any other point in the year. This means if the net pens were strong enough to sustain spring tides on a regular basis, they should have been able to handle the tides over the weekend as well.
There were more than 300,000 Atlantic salmon in the pen net when it broke on Saturday but Cooke Aquaculture is estimating that only about 4,000-5,000 of those actually made it out into the Rosario Strait. The Atlantic salmon are not native to the area so the WDFW is hoping that opening up the fishing to anglers with a current fishing licence will help protect the salmon that are native to the area. There is no limit on the number of fish or the size of the fish that can be caught and angles don't need to report their catches either.
While the WDFW does not think the fish pose a threat to the native fish in the area in terms of disease or breeding but are still hoping to protect the native fish. The fish weight about eight to 10 pounds and are safe to eat says the WDFW.
The company was planning on replacing the pens after harvesting this season, reported the Seattle Times. But the company was waiting on permits and for the end of the season when the fish had been harvested.
© Copyright IBTimes 2023. All rights reserved.