Coronavirus Update: Singapore Confirms 3 New Cases, Death Toll Hits 2,120
KEY POINTS
Singapore reports three new Covid-19 cases on Wednesday
Its successful campaign to prevent a wider spread of the coronavirus has earned the praise of WHO
As of Thursday morning (Singapore time), the official toll from Covid-19 worldwide stands at 75,291 confirmed cases with 2,120 deaths
At the end of Wednesday when China's Hubei province (the epicenter of the coronavirus outbreak) revealed 108 new deaths, Singapore continued its run of luck by reporting no deaths but only three additional infections from the coronavirus.
The three confirmed cases brought Singapore's total case number to 84. Of this total, however, 34 people have recovered and been sent home. One of the new cases is a 35-year-old Singaporean woman with no recent travel history to China, making this a case of person-to-person transmisison.
The number of confirmed cases at the start of the week on Sunday was 72. Six of the 72 were reported in critical condition but are still alive. There is still the possibility one of these patients might later succumb to the disease.
Almost one in four (22 people) in Singapore's total cases are linked to the city-state's largest cluster around the Grace Assembly of God church along Tanglin Road, SCMP noted. Among the people associated with the church afflicted by the disease is its senior pastor. The church at Tanglin Road and another at Bukit Batok are now closed until February 25 to prevent more infections.
On Tuesday, the World Health Organization (WHO) praised Singapore for its all-out effort to limit the spread of Covid-19 through persistent contact tracing, immediate quarantine and other measures. WHO director-general Tedros Adhanom Ghebreyesus said Singapore was "leaving no stone unturned" in addressing the coronavirus outbreak.
"We are very impressed with the efforts they are making to find every case, follow up with contacts, and stop transmission," he said.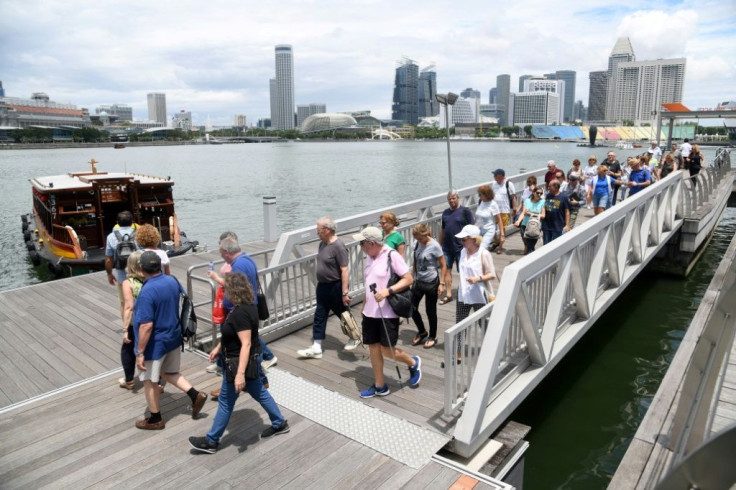 On the other hand, in China, Covid-19 continues to take a heartbreaking toll. As of 7:10 a.m., February 20, Hong Kong time, the official toll from Covid-19 worldwide stands at 75,291 confirmed cases (of which 74,185 are in mainland China) with 2,120 deaths (of which 2,112 are in mainland China). China's National Health Commission (NHC) reports 14,452 people have recovered from the disease.
Japan is home to 693 cases but 621 of these people are passengers of the infected cruise ship, Diamond Princess, quarantined in Yokohama harbor since February 4. Singapore has 84 confirmed cases.
There have been eight deaths from Covid-19 outside mainland China, including both of the first two Iranians confirmed stricken with the disease. The two deaths in Iran were reported Wednesday. There have been two deaths in Hong Kong. One person has each died in the Philippines, Japan, France and the Republic of China (Taiwan).
© Copyright IBTimes 2023. All rights reserved.