Cosmonaut Captures Stunning Images Of Record-Setting Soyuz Launch From ISS
KEY POINTS
A NASA astronaut and two Russian cosmonauts were transported to the ISS on Wednesday
A cosmonaut aboard the ISS captured stunning images of the launch
The launch set a record for the fastest trip to the space station, Russia's space agency Roscosmos said
A cosmonaut aboard the International Space Station (ISS) captured stunning images of the record-setting Soyuz aircraft launch that brought three of his colleagues to the orbiting laboratory.
It was at 1.45 a.m. EDT Wednesday when NASA astronaut Kate Rubins and Russian cosmonauts Sergey Ryzhikov and Sergey Kud-Sverchkov were transported to the ISS aboard a Soyuz MS-17 spacecraft. Apart from those watching the live coverage of the event, their colleagues who were already aboard the space station also witnessed the record-setting launch.
In a tweet, cosmonaut Ivan Vagner shared two stunning images of the launch from Kazakhstan's Baikonur Cosmodrome. In both images, one can clearly see the spacecraft shortly after launching from the pad.
"'Favor' crew, congratulations on the successful launch!" Vagner wrote in the tweet. "The flight seen from space looks even cooler than from the Earth!"
Vagner added that they were preparing to welcome the Soyuz MS-17 "in just 2.5 hours."
The actual flight lasted for three hours and three minutes, setting a record for the fastest flight to the ISS. It arrived after just two orbits instead of the usual four or even more "for the first time in history," Russia's space agency Roscosmos said in a tweet.
"Moreover, a new record was set in spaceflights to the ISS – the Soyuz MS-17 total flight time from liftoff to docking amounted three hours and three minutes," Roscosmos said in a news release. "The previous record was set by the Progress MS-17 cargo spacecraft arriving at the station in three hours and 18 minutes after the launch."
The three newly-arrived astronauts will spend 177 days in space, during which they will perform about 55 scientific experiments, continue to trace the reported air leak in the Zvezda module and even perform two spacewalks, one in November and the other in February next year, Russian news agency TASS reported.
Rubins will also get to vote in the upcoming 2020 U.S. presidential election from the ISS.
The three astronauts who welcomed Rubins, Ryzhikov and Kud-Sverchkov are already set to return to Earth on Oct. 21.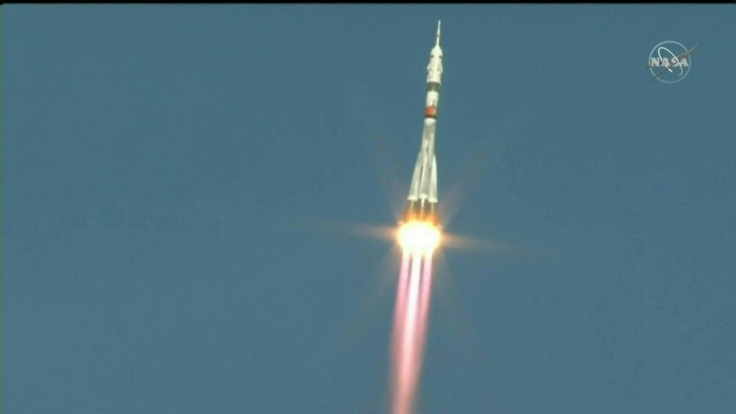 © Copyright IBTimes 2023. All rights reserved.