Cryptobank Crypterium No.1 On High-Growth Token Ranking, According to Top Analyst Teeka Tiwari
Crypterium — the award-winning fintech startup led by the former General Manager of VISA Steven Parker — has topped the list of most promising cryptocurrency investments for 2020 by the renowned market analysts and editor of Palm Beach Research Group Teeka Tiwari.
Tiwari's 2020 Phenomenon Playbook consists of 5 cryptocurrencies that present high-growth potential. CRPT ranked first on the list, followed by Tierion (TNT), 0x (ZRX), Crypto.com (MCO), Status Network Token (SNT), and Solve.Care (SOLVE). From these coins, Crypterium has recently integrated the ZRX token, now supported on the Crypterium Wallet.
According to the former hedge fund manager, the price of Crypterium's CRPT token could rise as much as 700% in the next two years. Tiwari's estimation is based on projected volume of payments expected to flow through the Crypterium network.
At the moment, the Crypterium network consists of two main products: the Crypterium Wallet and the Crypterium Card. Both products were born from the need of a bridge between digital and traditional finances. With Crypterium services, users can store, send, buy, exchange, cash out, and spend digital assets with the same ease as any fiat currency.
In a report released to investors, Tiwari outlined that Crypterium is well positioned to embrace massive adoption of cryptocurrencies because of the wide range of global crypto-fiat services available on the Crypterium Wallet.
"The CRPT token underlies the Crypterium Wallet. CRPT is special in that every time someone uses the Crypterium Wallet or Crypterium Card to make a purchase, he's charged a 0.5% fee—in CRPT. And this all happens without the user having to hold any CRPT."
Signs Of Growth: CRPT Adds +65% In 24 Hours
On May 8, 2020, the price of CRPT token jumped by more than 65%, leaving the current valuation at nearly $0.62 per unit and placing the token in the TOP 100. When measured on a Year-over-Year (YoY) basis, the change adds to a substantial 376%.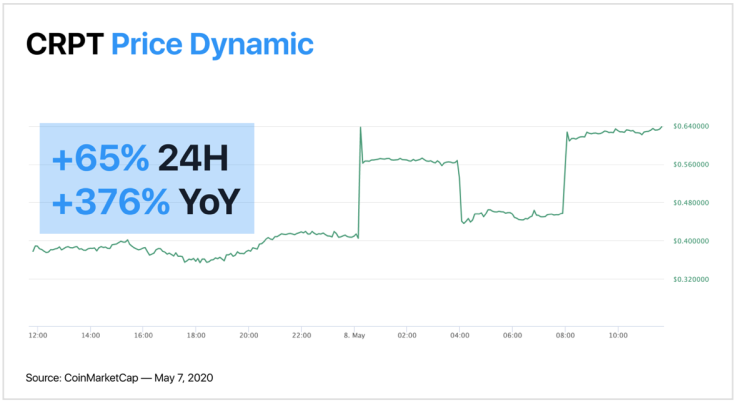 Having amassed more than 500,000 customers since the 2018 launch, Tiwari suggested that "Crypterium could easily be processing $1 billion in payments annually" three years from now.
When writing about his projections, he added: "We project a $100 million Gross Dollar Volume (GDV) run rate within the next two years. Assuming the average burn rate of CRPT remains the same, CRPT would need to be priced at $1.92."