Dad Appears In Nazi Uniform For Child Custody Hearing, Heath Campbell Says 'I Wanna Be A Father' [PHOTO]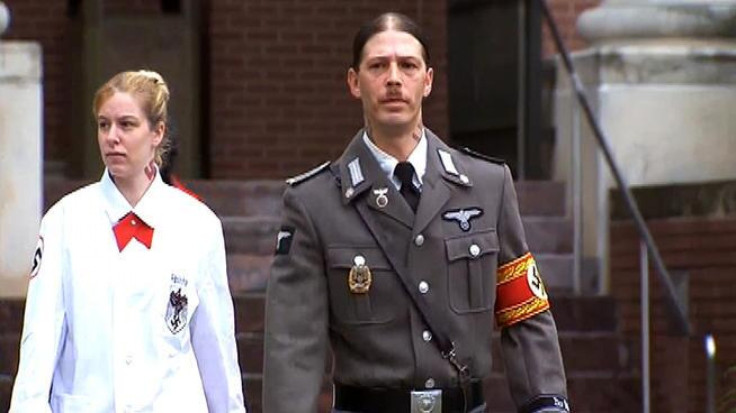 A neo-Nazi New Jersey man who lost custody of his four children -- all of whom have Nazi-inspired names -- showed up in family court Tuesday dressed in a Nazi uniform to petition for visitation rights to see his youngest son, 18-month-old Hons.
"I'm going to tell the judge, I love my children; I wanna be a father, let me be it," Heath Campbell told NBC10 Monday before the hearing. "Let me prove to the world that I am a good father."
Within 16 hours of Hons' birth in November 2011, state child services representatives took custody of the newborn. He was Campbell's fourth child with wife Deborah, a high school dropout. Hons' siblings, Adolf Hitler Campbell, Joycelynn Aryan Nation Campbell and Honszlynn Hinler Jeannie Campbell, were taken into state custody nearly three years earlier after a state appeals court ruled that the family had a history of domestic violence that put the children at risk of abuse and neglect, ABC News reports.
The Campbells argued that they had never abused their children and that the state took them into custody because of their Nazi-inspired names. "They beg to come home all the time," Deborah Campbell told NBC10 during a custody hearing in 2011. "They beg for their dad. They want to see their dad all the time."
In December 2008, Heath and Deborah Campbell gained attention after a grocery store refused to print their son's name, Adolf Hitler Campbell, on a birthday cake for his third birthday. Soon after, police and child protection services took the children into foster care.
Court documents show instances of domestic violence and abuse. The couple's home in Holland Township, N.J., used skulls and knives as decorative features, and its windows were nailed shut. And Deborah apparently feared for her safety and the children's welfare. A neighbor gave police a handwritten note by Deborah accusing her husband of trying to kill her and teaching her son how to kill.
"Hes thrend to have me killed or kill me himself hes alread tried it a few times. Im scare to leave b/c I will be killed. Im afread that he might hurt my children if they are keeped in his care... He's already stabed me with a screwdriver in the hand... He teaches my son how to kill someone at the age of 3."
Later, Campbell said what she wrote was a lie and that her husband was a "perfect guy." Heath Campbell, who could not read at the time of the initial trial, has been married twice before and has two children from those marriages. One of his ex-wives has a restraining order against Campbell and has moved to an Air Force base to "be away and safe from him."
Heath Campbell says he's determined to do whatever it takes to get his kids back.
"If I have to give up my Nazism, then so be it. I'll do it," Campbell told the Star-Ledger. The children are "more my heart and soul and everything than anything."
FOLLOW MORE IBT NEWS ON THE BELOW CHANNELS