David Cameron's Ex-Spin Doctor Andy Coulson Guilty of Phone Hacking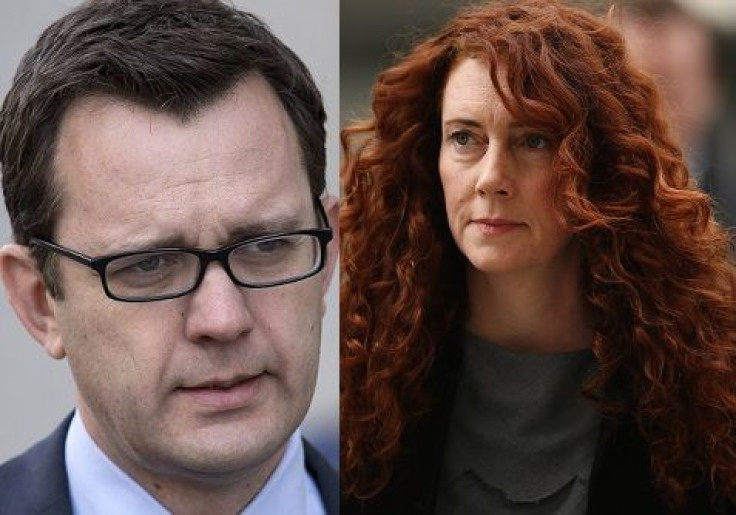 The verdicts are in for most counts in the eight-month phone-hacking trial of former executives and staff of News Corp.'s News of the World tabloid newspaper.
Andy Coulson has been found guilty of one count of conspiracy to hack phones during his tenure as editor of NOTW, shuttered in 2011 after a scandal erupted over reports that staff had hacked into voicemail messages to get scoops. Coulson's co-accused in the trial, including former News International executive Rebekah Brooks, have all been cleared following the trial at the Old Bailey in London.
Coulson, a former spin doctor for British Prime Minister David Cameron, was found guilty of conspiring to hack phones with others between 2000 and 2006.
Coulson and former royal editor Clive Goodman still await their hearings on two charges of conspiring to commit misconduct in public office by sanctioning payments to public officials for confidential royal phone directories.
Brooks, who edited The Sun and News of the World before being promoted to News International chief executive, was cleared of conspiring to hack phones, conspiring to commit misconduct in public office, and conspiring to cover up evidence to obstruct justice.
She had already been cleared of one count of misconduct during the eight-month trial at the Old Bailey.
In related news, Brooks' personal assistant Cheryl Carter and husband Charlie Brooks have also been found not guilty of conspiring to pervert the course of justice, along with NI director of security Mark Hanna.
The paper's former managing editor Stuart Kuttner has also been found not guilty of phone hacking charges.
The trial, which has been one of the longest and most expensive in British criminal history, heard allegations of how journalists working at the News of the World and The Sun, under the stewardship of Brooks and Coulson, routinely broke the law in pursuit of exclusive stories.
Former NOTW chief correspondent Neville Thurlbeck, former assistant news editor James Weatherup and former news editor Greg Miskiw pleaded guilty to conspiracy to intercept communications at a previous hearing.
Private investigator Glenn Mulcaire also pleaded guilty to three counts of conspiracy to hack phones in relation to Milly Dowler and others.
Coulson was arrested in July 2011 one day after the NOTW closed following reports the phone messages of murdered schoolgirl Mily Dowler were hacked by journalists at the paper.
Cameron is expected to make an apology in the wake of Coulson's conviction. Following his arrest, Cameron told parliament: "I have an old-fashioned view about innocent until proven guilty. But if it turns out I have been lied to, that would be the moment for a profound apology."
Coulson was appointed the Conservative Party's director of communications in May 2007 after a Press Complaints Commission (PCC) report into phone hacking ruled that neither Coulson nor anyone else at the newspaper was aware of the activity of Goodman following his phone hacking conviction.
News UK, which replaced News International following the closure of the NotW, said: "We said long ago, and repeat today, that wrongdoing occurred, and we apologised for it. We have been paying compensation to those affected and have co-operated with investigations.
"We made changes in the way we do business to help ensure wrongdoing like this does not occur again. And we are strong supporters of the Independent Press Standards Organisation that is expected to begin work this autumn, serving as a watchdog on the industry in the public interest.
"Out of respect for the fact that further legal proceedings will occur, we will have no further comment at this time."
© Copyright IBTimes 2023. All rights reserved.