Defying Weak Economy, GE To Go on U.S. Hiring, Plant-Building Spree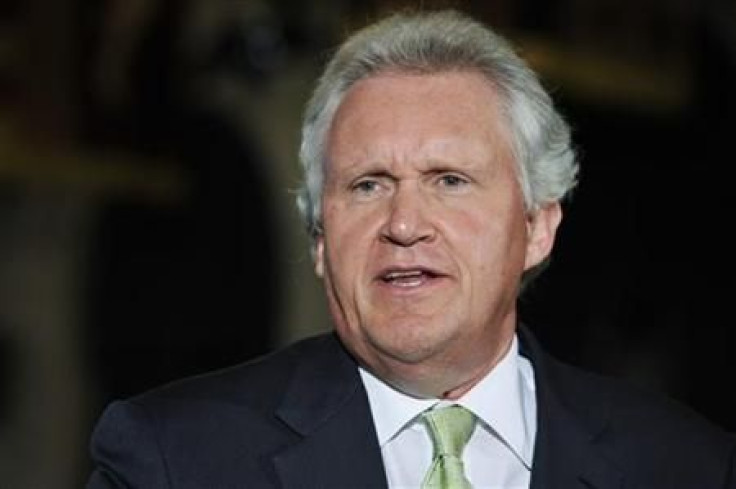 General Electric Co., the blue-chip conglomerate widely seen as a bellwether of the American economy, will hire 12,000 workers in the United States over the next five years, including 5,000 veterans hired through a special priority-placement program, GE said Monday.
The Fairfield, Conn.-based company announced its jobs creation plan at the beginning of a four-day conference, saying many of the jobs will be in manufacturing, including 400 positions that will need to be filled by 2013 in three aviation-focused factories the company is now building.
We should have the confidence to act and to restore American competitiveness, CEO Jeff Immelt said in a statement, There are companies and communities all across the country that are leading the way.
The announcement by GE underscores the improbable boom in U.S. manufacturing that has taken place since at least December of last year, and is driving an otherwise tepid economic recovery.
Poised For A Rebound
GE's forays into aviation are typical of the storyline being weaved by that surge in manufacturing. After going through a labor streamlining process during the global recession, the company is refocusing into booming areas of the industry and expanding. It is also taking advantage of government programs that, eager to see the unemployed placed in more solid economic footing, subsidize employee training and provide tax incentives for building plants.
Speaking from Wichita, Kan., where he said people take much pride in being the air capital of the world, Keith Lawing, executive director of the Workforce Alliance of South Central Kansas said in a January interview that aerospace manufacturing in the U.S. was poised for a rebound -- even in the face of a major plant closing in his region announced in January by Boeing that would put more than 2,000 workers out of a job.
What we're seeing in manufacturing is really a shift in materials. Those are the type of skills we need to re-train or update, to absorb those workers, Lawing explained.
GE's announcement appears to validate that point of view. The company will build two 300,000-square foot plants -- one in Missisippi and one in Alabama -- that will see at least partial production from 2013 on and create some 650 jobs by the end of the decade, the company said in a statement.
A mammoth 120,000 square foot-center in Ohio will also be built, which the company said will collaborate with the University of Dayton to implement research on advanced computer modeling, simulation, and analysis of advanced, dynamic electric power systems and controls.
GE said it is investing approximately $580 million in capital expenditures for the 2011-2012 time frame across its entire aviations operation, the company said.
A Gift, From One Chief Executive To Another
GE's hiring and capital-strenghtening moves, in the context of portraying a more solid U.S. economy, are likely to be seen as potential boon to President Obama, who last month said in the State of the Union address, It is time to start rewarding companies that create jobs right here in America and noted, If you're an American manufacturer, you should get a bigger tax cut.
It would be the latest in a string of positive economic developments to benefit the record of the sitting president, who has seen unemployment drop by 0.3 percentage points since the beginning of the current election year, to 8.3 percent -- and his approval rating rise to above 50 percent.
GE's Immelt is a top adviser to Obama on jobs and the economy, but he has not always been a political asset to the nation's chief executive in his jobs czar position. In October, Immelt was panned for comments made during a CBS interview in which he criticized the loopholes in the U.S. corporate tax system, in spite of the fact his corporation exploits those tax advantages to pay zero taxes.
© Copyright IBTimes 2023. All rights reserved.