Dell Disappoints, With Dismal Outlook, And Shares Dive 15%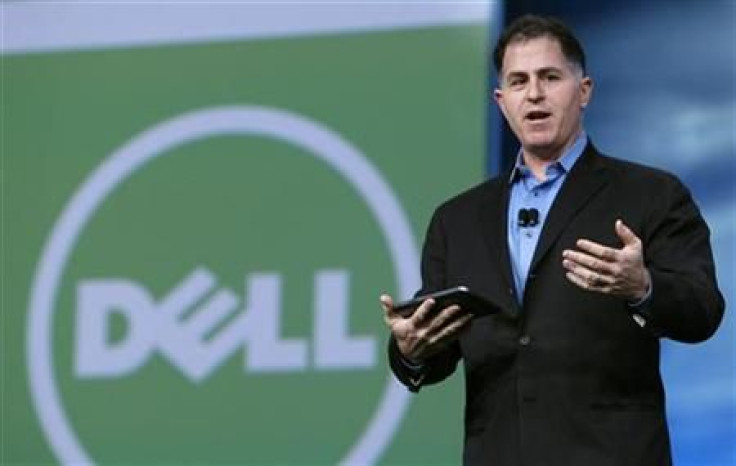 Shares of DELL (Nasdaq: DELL), the No. 3 PC maker, plunged as much as 15 percent after the company reported first-quarter results that trailed analyst estimates for both income and revenue and issued a poor forecast.
In early trading Wednesday, Dell shares fell $2.26 to $12.82, or 15 percent, knocking its value down to only $22.8 billion.
The No. 3 global PC maker said first-quarter net income was $824 million, or 43 cents a share, compared with prior-year net income of $1.05 billion, or 55 cents, a year ago.
Analysts had expected operating income of 46 cents a share.
As well, revenue was $14.4 billion, about $500 million below estimates and far below last year's $15.01 billion.
Shares of Dell (Nasdaq: DELL) rose nearly 2 percent Tuesday, in advance of the company's report of first-quarter results. But they plunged 9 percent after the results were released.
One reason could be the company said second-quarter revenue could rise between 2 and 4 percent from the first quarter. It didn't issue an earnings forecast.
Dell shares closed at $15.23, up 11 cents, around the mid-point of their 52-week range. It's not the first earnings surprise from the Round Rock, Tex.-based company founded by CEO Michael Dell, 47, nearly 30 years ago at the University of Texas at Austin.
Dell, which lost the No. 2 global PC crown last year to China's Lenovo Group (Pink: LNVGY), could also be a harbinger for results expected Wednesday for Hewlett-Packard Co. (NYSE: HPQ), the No. 1 PC maker.
HP, though, is also expected to report firings of as many as 30,000 people by new CEO Margaret Whitman, along with slightly higher results than a year ago, for its second quarter.
Like HP, based in Palo Alto, Calif., Dell is trying to fatten margins by selling more software and services. Under Dell, the company has also made a series of acquisitions of service providers such as Perot Systems and storage companies to move into higher-end products and services.
As well, Dell hasn't been much of a player in the fast-growing market for tablets or smartphones. Several initial products haven't caught on to compete against the bestsellers such as the iPhone 4S from Apple (Nasdaq: AAPL), the world's most valuable technology company, or the Galaxy family of tablets and smartphones from Samsung Electronics (Seoul: 005930).
Dell and CFO Brian Gladden shed more light on product strategy during their investor call Tuesday night.
They may also be expected to discuss Dell's cash and investments. Dell reported cash and investments of $17.2 billion for the period ended May 2, down from the $18.2 billion in the fourth quarter.
© Copyright IBTimes 2023. All rights reserved.