Dennis Rodman Sentenced To Community Service And Informal Probation For Failing To Pay Child Support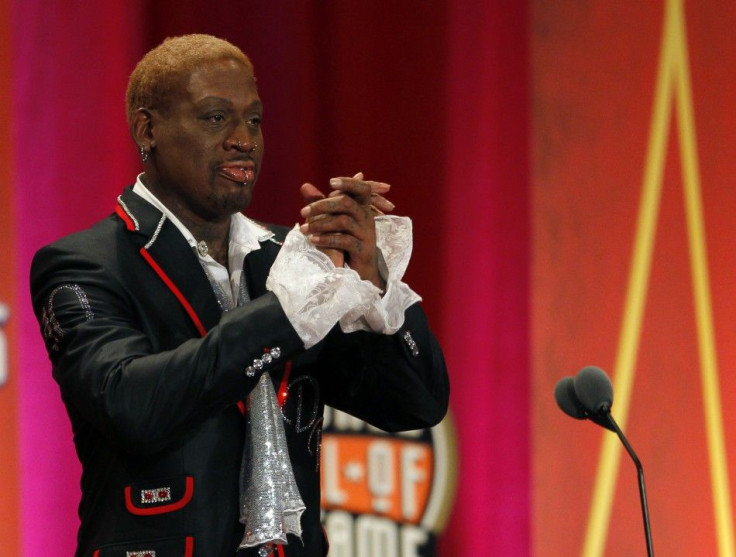 The notable and flamboyant former NBA star Denis Rodman has been sentenced in Southern California to 104 hours of community service and three years of informal probation after he was convicted of contempt for failing to pay the proper amount owed in child support.
Rodman, who was also found guilty of failing to pay his child support last year, was also ordered to continue paying the proper amount to his former wife, reported the Los Angeles Times.
Last year, Rodman's lawyer, Linnea Willis, asserted that he was unable to pay his child support because he could no longer afford it. His lawyer said that his alcoholism and smeared public image have prevented him from earning a steady paycheck and has dramatically his hurt his ability to make payments to his ex-wife. However, he was found guilty of contempt for owing child support in 2009 and 2010.
Court Commissioner Barry Michaelson did not buy the poverty claim. He sentenced Rodman to 104 hours of community service and informal probation, reported the Associated Press.
My suggestion is to use your talents as a motivator, as a fine, fine athlete and as a fine person to assist others in need, said Michaelson, reported the AP.
Mary Ann Noiroux, an attorney for Michelle Rodman, said in an earlier interview with the AP that Rodman could be ordered to pay as much has $800,000 to his ex-wife. She also said the former NBA star could face jail time on additional contempt charges for other missed payments.
Rodman is supposed to pay approximately $4,500 a month to support his and Michelle's two children, ages 10 and 11, reported the LA Times. Michelle and Dennis Rodman were married in 2004. They divorced less than a year later. Since then, the couple has also been feuding for custody of the children.
My desire is not to put Dennis Rodman in jail, said Michelson, reported the AP. My desire is to shake the tree a little bit and get money for his children.
© Copyright IBTimes 2023. All rights reserved.