Michelle Rodman: Dennis Rodman Must Pay $860,000 To Ex-Wife Or Face Jail Time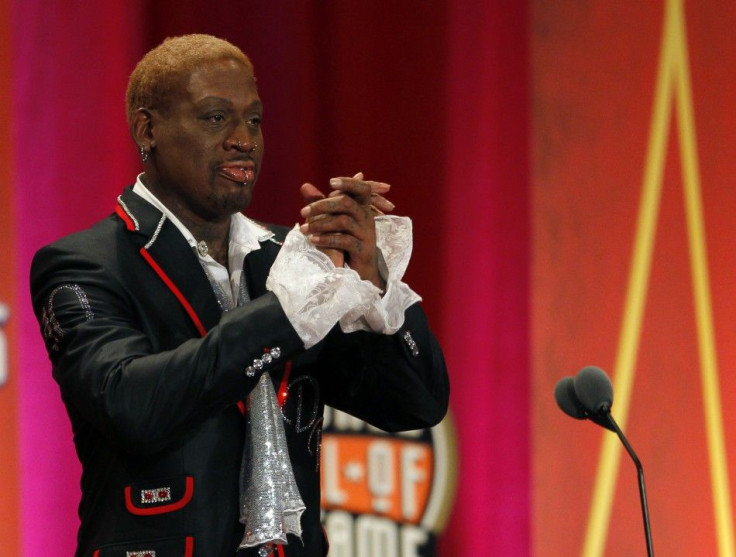 Former NBA all-star Dennis Rodman, is reportedly extremely sick and also broke, according to court documents. He is also in no position to pay child or spousal support payments and could face jail time if he doesn't pay up to his third wife, Michelle Rodman.
Rodman is far behind on payments and faced a court hearing Tuesday in Orange, Calif. He could face up to 20 days in Orange County jail unless he is able to come up with $860,000 in child and spousal support that he owes to his ex-wife from his third marriage, Michelle Rodman, reported CBS.
His sentencing was moved to May 29 and could be reduced to community service.
In all honesty, Dennis, although a very sweet person, is an alcoholic, said Peggy Williams, his financial advisor, reported the Washington Post. His sickness impacts his ability to get work. This case, especially his wife filing for divorce, has put him on a binge that I have never seen before. He is extremely hurt and extremely sick. He is often unable to obtain work because of the sickness. And his sickness is getting increasingly worse.
The 50-year-old five-time championship winner has been in legal trouble before. Known for his flamboyant clothes, ridiculous hair styles and piercings, Rodman has been arrested several times in the past for driving under the influence, to assaulting his ex-fiancé and hosting wild and crazy parties.
Dennis cannot afford his own monthly expenses, said Williams. If the court awards attorney fees, it is setting Dennis up to be in contempt because you cannot get blood from a turnip.
Michelle however disputes this claim. Her attorney reportedly claims that Rodman flies all over the world hosting parties and living an extravagant lifestyle in the years since he retired from the NBA. His 47-foot speedboat named Sexual Chocalate, his Ford 350 pickup truck with his portrait on the hood and his extravagant 40th birthday that included a helicopter, is allegedly proof that he is not going bankrupt according to Michelle, reported the Washington Post.
But Rodman has also suffered from bouts of alcohol abuse after trying to reconcile from a tumultuous marriage with Michelle, but she filed for divorce.
© Copyright IBTimes 2023. All rights reserved.