Detroit Auto Show 2013: Photos Of Hybrid Cars Featured In The Motor City [SLIDESHOW]
DETROIT -- For the driver concerned about the environment and gas mileage, the 2013 Detroit Auto Show features a plethora of hybrid vehicle options, ranging from the three tiers of Ford sedans to the new 2014 Honda Accord Plug-in Hybrid.
Ford (NYSE:F) has a fleet of three environmentally-friendly offerings: full hybrid vehicles; plug-in hybrids that connect to a charging station (sold separately); and all-electric cars.
Among the hybrid vehicles on display from Ford at the 2013 Detroit Auto Show is the 2013 Ford C-Max Energi Plug-in Hybrid. The Dearborn, Mich.-based auto company touts the C-Max Energi's 100 highway/100 city MPGe. Ford also offers the 2013 Fusion Hybrid, which gets 47 miles to the gallon on both highway and city driving.
Honda Motor Co. (NYSE: HMC) boasted its 2014 Honda Accord Plug-in Hybrid. The plug-in vehicle is being offered in one model with a MSRP of $39,000. The car is currently available only in California and Oregon, with a date for wider availability still to be determined. Honda also produces a standard Hybrid available in all states.
German automaker BMW (ETR: BMW) showcased its latest hybrid, the Active Hybrid 7. The base model starts at $85,195.
Volkswagen debuted its Jetta Turbo Hybrid at the 2012 Detroit Auto Show and made the vehicle available for purchase late last year. The hybrid, which starts at $24,995 and was on display at this year's car show, gets 48 miles to the gallon on highway driving and 46 miles in the city.
Toyota (NYSE:TM) updated its luxury Avalon brand with a hybrid model, which gets 40 miles per gallon for city driving and debuted at the New York Auto Show last year. A prototype of the new hybrid includes wireless cell phone charging in the vehicle, compatible with versions of the Apple iPhone.
Toyota's Prius has been a mainstay of the hybrid market. The Japanese manufacturer made slight upgrades for 2013, including 17-inch wheels, a new black cherry pearl color and SofTex alternative leather upholstery. Genuine leather has been phased out of the Prius.
The company also rolled out a new model of Prius, the Prius Plug-In Hybrid. The vehicle can be charged in as little as 1 1/2 hours and has a combined 50 MPG.
Lexus, Toyota's luxury brand, has five hybrid offerings, the newest being the LS and ES models. The company is also has two concept cars designed to be hybrids, a representative said.
Chevrolet showed off its 2013 Volt in Detroit, emphasizing the hybrid's computerized display on the center console that points out how much battery power is left in the vehicle.
Click through the slideshow to check out the hybrid vehicles on display at the 2013 Detroit Auto Show.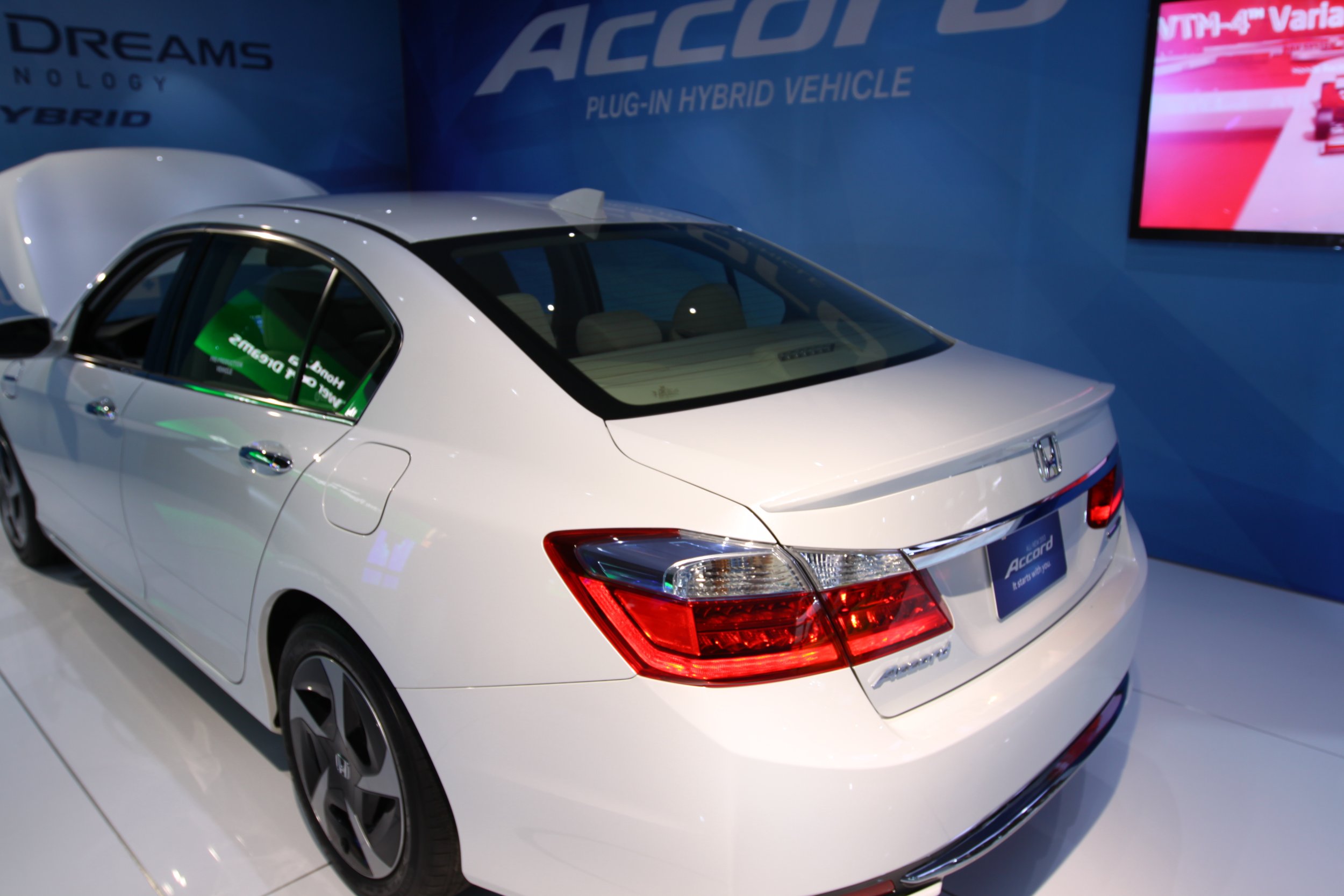 © Copyright IBTimes 2023. All rights reserved.