Dick Harpootlian, South Carolina Democratic Chairman, Stirs Controversy Comparing Nikki Haley To Eva Braun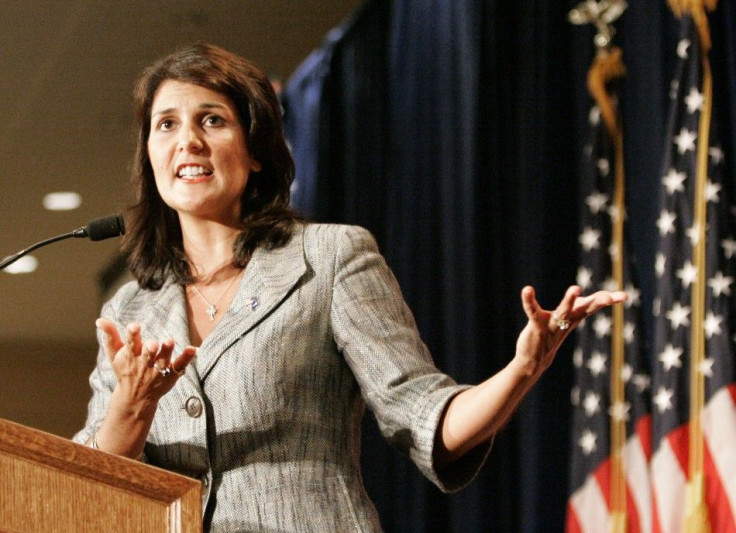 Dick Harpootlian, the colorful chairman of the South Carolina Democratic Party, landed himself in hot water among Republican circles after invoking Adolf Hitler's mistress, Eva Braun, when speaking about South Carolina Gov. Nikki Haley.
"She was down in the bunker a la Eva Braun," Harpootlian said of Haley during a breakfast Wednesday of South Carolina delegates to the Democratic National Convention in Charlotte, The State reported.
Harpootlian was referring to the Republican South Carolina governor participating in a news conference in Charlotte while Democrats were holding their convention. Braun committed suicide in a bunker with Hitler as Allied forces were closing in on them during World War II.
The comment, which led "Dick Harpootlian" to trend Wednesday on Twitter, drew condemnation from Republicans.
"Another disgusting comment from Dick Harpootlian," said South Carolina Republican Party Chairman Chad Connelly. "When will SC Dems learn their lesson?"
Matt Moore, executive director of the South Carolina GOP, called on Harpootlian to apologize.
"Leave it to Dick Harpootlian to stoop to a new low," he wrote on Twitter. "His comments comparing Braun/Haley are despicable and require an apology."
Mike Schrimpf, spokesman for the Republican Governors Association, went a step further and suggested Harpootlian step down from his post.
"Unbelievable," he tweeted. "How long until Dick Harpootlian resigns as SC Dem Party Chairman?"
The Eva Braun reference was not the only quote-worthy comment from Harpootlian, as reported by The State.
The South Carolina Democratic Party chairman pounced on Haley further when asked why he thought Republicans are not fond of education funding.
"An educated population would not elect a Nikki Haley," he said, the paper reported.
Harpootlian then turned to Haley's predecessor, Mark Sanford, whose staff said he was hiking on the Appalachian trail when in actuality he was seeing his then-mistress, Maria Belen Chapur. Sanford, who resigned from office, has plans to marry Chapur.
"Silly me, I thought he was just screwing us," Harpootlian said of the erstwhile Republican governor.
Sensing that Harpootlian's comments would set off controversy, his predecessor, Carol Fowler, addressed the crowd at the breakfast.
"They called me up here to save you from yourself," she said, according to The State. "Or to save the rest of us."
Republican Amanda Carpenter called Harpootlian's Braun reference "disgusting."
Harpootlian's penchant for media-worthy quotes have made him a favorite among news networks.
On Fox News Live late last year, the South Carolina Democratic Party chairman likened the 2012 Republican primary race to a midget mud wrestling contest.
"I compare this to midget mud wrestling," he said. "We don't know who's going to win, but when it's over it's going to be a midget covered in mud."
When Harpootlian's sparring partner on the program said he was offending a portion of the electorate, Harpootlian quipped they can't vote anyway.
"I don't think they can reach the machine," he said.
© Copyright IBTimes 2023. All rights reserved.