Distracted Driving: Study Finds Nearly 90 Percent Of People Use Phone While Driving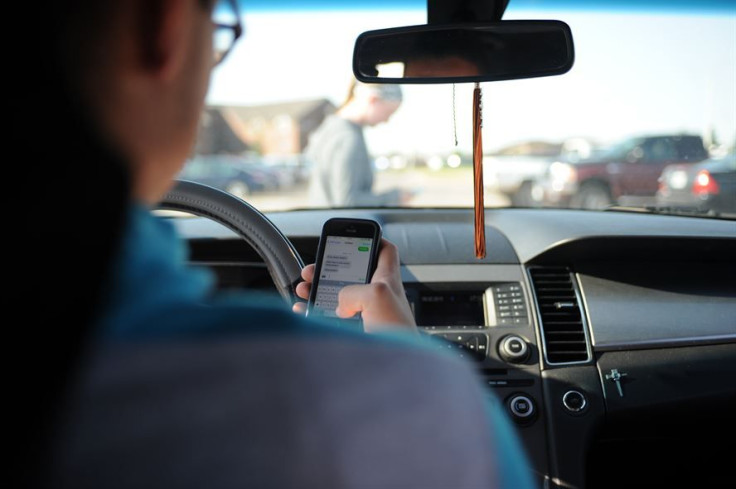 A new, extensive study of driving habits by smartphone owners found nearly nine in 10 people use their phone while behind the wheel.
ZenDrive, a driving analytics company, dug into a massive collection of anonymized driving data—a three month sample from three million drivers covering 570 million trips and 5.6 billion miles—and found drivers used their phones during 88 out of 100 trips. Drivers used their phones for 3.5 minutes out of every hour on the road.
Read: Lawsuit: Distracted Driver on Apple's FaceTime Caused Crash That Killed 5-Year-Old
ZenDrive's data, which taps into phone sensors to determine phone usage while a person is driving, suggests people are talking or texting while behind the wheel on 5.6-million car rides per day in the United States. Prior to ZenDrive's study, law firm Edgar Snyder and Associates estimated 660,000 drivers attempt to use their phones while behind the wheel.
The figures from ZenDrive may sound shocking at first, but perhaps shouldn't be. Statistically speaking, you are likely one of the people who uses your phone while driving, according to the study.
Most people are well aware that using their phone while driving is dangerous. A study conducted by the AAA Foundation for Traffic Safety found 81.8 percent of people surveyed viewed texting or emailing while driving to be a threat to safety and 78.2 percent said it is completely unacceptable.
Despite the near-universal understanding that using one's phone while driving is a major risk, the majority of people continue to do so, which presents safety concerns for themselves and for others on the road—and results in research like a 2015 study conducted by Oregon State University that found distracted driving to be at an all-time high.
Read: Pokémon Go Leading To 'Serious Risk' From Distracted Drivers, Passengers And Pedestrians
As smartphones have become more accessible and more ingrained into the daily lives of people, it seems inherent that people would glance at their device, even while behind the wheel. But those split-second looks can make all the difference on the road—a two-second distraction is long enough to i ncrease your likelihood of crashing by over 20-times.
It's then perhaps unsurprising that the number of traffic deaths have increased considerably in the last two years, including a 10.5 percent spike in 2015.
It's unclear what exactly can be done about such an issue, as ZenDrive found even states that have a phone ban while driving like Vermont and New Jersey rank among the states with the most distracted drivers.
Lawsuits have been filed against companies like Apple and Snapchat for their alleged role in distracted driving-related traffic accidents, but no company has pushed toward locking down a device while users travel at a certain rate of speed.
© Copyright IBTimes 2023. All rights reserved.