DNC Puts Spotlight On How North Carolina Is A New Battleground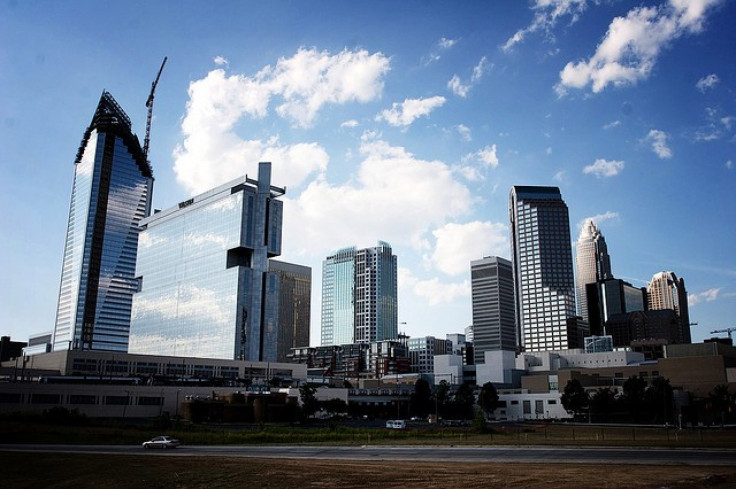 Few things happen by chance in a modern presidential campaign, so the choice of city for the tightly choreographed party conventions usually illuminates something about the broader dynamics of the race.
The Republican Party's choice of Tampa reflected the immovable centrality of Florida, a swing state whose 29 electoral votes are fiercely coveted every four years. But the fact that the Democrats are preparing to convene in North Carolina highlights how shifting demographics are changing America's electoral map.
President Obama won North Carolina by a slender margin of fewer than 15,000 votes, marking the first time a Democrat had captured the state since Jimmy Carter pulled off the feat in 1976. It was among a handful of typically red states that Obama managed to move to the blue column en route to a commanding victory of 365 to 173 electoral votes.
That number partially reflected widespread disillusionment with the Republican party and its deeply unpopular leader, President George W. Bush. But it also spoke to population trends that are revising the list of states Democrats deem worthy of campaign resources.
Take Colorado, where Obama accepted his party's nomination in 2008. Along with nearby Western states like New Mexico and Nevada, Colorado has become a prominent target for the Obama campaign. A surge in the Latino populations in those states is playing a prominent role in putting them in play (polls consistently show that Obama is far ahead of Mitt Romney among Latino voters).
North Carolina is also in the midst of momentous demographic changes, captured in the latest U.S. Census. The state has experienced a massive population influx over the past decade, growing by a whopping 18.5 percent.
Within that growth are several indicators that seem favorable to Democratic candidates. Its Latino population has more than doubled, jumping from fewer than 400,000 in 2000 to more than 800,000 in 2010.
The last decade has also seen a large number of African-Americans moving to the South, reversing a decades-old trend. The number of non-Hispanic black North Carolina residents grew by 18 percent, giving the state the sixth-largest black population in the United States; four of its five largest cities are majority non-white, with Raleigh being the exception.
Population trends notwithstanding, the Republican ticket is ahead in the state. The latest piece of polling, a survey from North Carolina's Elon University, gives Romney a four-point lead over Obama. A 9.6 unemployment rate -- tied for fifth highest in the nation -- bolsters Romney's argument that voters have suffered financially under Obama. And the fact that North Carolina voted overwhelmingly in May in favor of an amendment to its state constitution banning same-sex marriage, drawing an admonishment from President Obama, demonstrates that social conservatism is alive and well there.
But the state is still heavily in play, highlighted by the Obama campaign's maintaining dozens of field offices as it seeks to reactive a grassroots machine from the last cycle. North Carolina voters have also witnessed a barrage of television advertisements from Romney and his allies, and the conservative nonprofit Americans for Prosperity is bankrolling an extensive get-out-the-vote effort.
All of this means that both camps see North Carolina as a potential pickup -- and starting on Tuesday, Democrats will have a geographically convenient soapbox from which to make their case.
© Copyright IBTimes 2023. All rights reserved.
FOLLOW MORE IBT NEWS ON THE BELOW CHANNELS