Donald Trump Offensive Iowa Tweet Update: Campaign Intern Denies Having Access To Twitter Account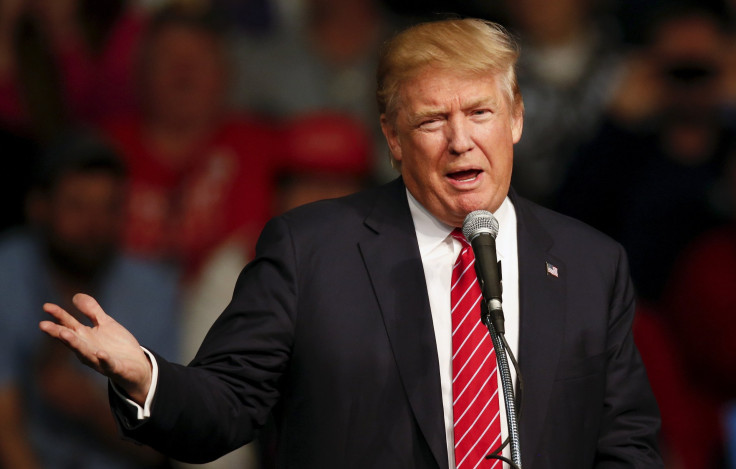 Donald Trump quickly shifted blame Thursday to a "young intern" employed on his campaign after an insult to Iowa voters was retweeted on his account -- but one Trump intern says running the GOP front-runner's Twitter account is not in his colleagues' job description.
A person identifying himself as a Fordham University student who works at the New York campaign headquarters told International Business Times via email Friday that interns do not have access to Trump's account. "As an intern for the internal headquarter campaign, we do not manage or in that case have any access to Mr. Trump's personal Twitter," said Garrison Groeschke, whose personal site and LinkedIn list him as a 2016 intern. "From my understanding and what I've been informed of by my superiors is that Mr. Trump's tweets and Twitter responses are done by him personally. All email accounts, however, associated and endorsed by the Donald J. Trump for President Campaign are managed by interns and other associates within the organization."
Trump's campaign denied the intern's assertions Friday afternoon, but did not clarify whether interns are primarily responsible for managing social media. "There are a handful of people who help execute tweets," said Hope Hicks, a Trump spokesperson, in an email.
Trump himself has been unclear about whether he runs his own Twitter account. "Well, I do retweets, and I mean, to a certain extent, I do, yeah. I think that's right. Do you want me to say no? You know, I retweet, I retweet for a reason," he said earlier this year.
A Washington Post profile of one of his aides reported that Trump dictates his tweets to staff.
"I've always assumed that Trump sends his own tweets," wrote Mother Jones' Ben Dreyfuss. "This is not because Twitter is a holy place and everyone sends their own tweets, but his account tweets so many weird things that I figured he couldn't have a professional ghost-tweeter at the helm. That person would never let him send half the things he sends."
Dreyfuss found through Twitonomy.com that Trump's tweets have been sent through a number of devices: an Android, a BlackBerry, a computer and and iPhone. Another Washington Post article reported that Trump tweets through an iPhone and does not use a computer. Dreyfuss estimated that about 3 percent of Trump's tweets were composed by himself.
Trump's account tweeted Thursday that an intern apologized for the tweet that, after a new poll showed Trump no longer leading state polls, suggested Iowans may have brain damage. "#BenCarson is now leading in the #polls in #Iowa. Too much #Monsanto in the #corn creates issues in the brain?" the tweet said. Monsanto is the global agricultural biotech company known for pesticides and genetically modified crops.
His campaign has blamed interns before for social media snafus --for example, when a campaign photo uploaded to his Twitter account in July showed a Nazi image in the background. "A young intern created and posted the image and did not see the very faded figures within the flag of the stock photo," the campaign said in a statement. "The intern apologized and immediately deleted the tweet."
© Copyright IBTimes 2023. All rights reserved.