Donald Trump's Finance Chair Is A Bank Exec Who Made 'Yuge' Profits From The Financial Crisis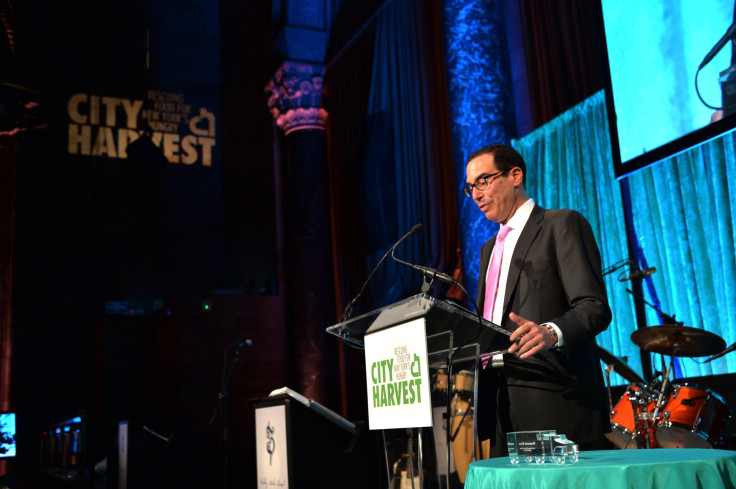 LOS ANGELES — Meet Donald Trump's new finance chair: hedge fund manager and bank chairman Steven Mnuchin. Plenty of Californians already know him. The Federal Deposit Insurance Corp. certainly does.
Mnuchin is the chairman of OneWest Bank, which was formed out of the wreckage of failed IndyMac Bank in 2009 and seeded with about $1.5 billion from people like Mnuchin, a former Goldman Sachs exec, George Soros and computer tycoon Michael Dell.
The bank quickly grew into one of Southern California's largest before it was acquired by CIT Group last year for $3.4 billion. But the factor arguably most critical to the bank's success was a loss-share deal it struck with the FDIC during the most desperate moments of the financial crisis, in which the agency agreed to absorb most of the losses on the bank's bad debt.
And that arrangement certainly helped Mnuchin, Soros and other shareholders pull more than $2 billion in dividends out of the bank since its inception. That's before the windfall on the sale to CIT where the original investors more than doubled their money. During that time, OneWest foreclosed on at least 35,000 homes in California. CIT also got a huge helping hand from the government during the crisis: It received $2.3 billion from the Troubled Asset Relief Program and declared bankruptcy before paying it back.
The OneWest-CIT deal sparked plenty of community backlash especially from the California Reinvestment Coalition, an umbrella group of community organizations. Last year, the coalition's executive director, Paulina Gonzalez, told the Los Angeles Business Journal she was disappointed with the combined bank's planned efforts to work with lower-income communities — required under the federal Community Reinvestment Act — given "the history of those two banks and the damage they've done in those communities."
"You'd think there'd be more of a feeling of responsibility," she said.
Regulators did take the relatively rare step of having a public hearing on the merger after OneWest Chief Executive Joseph Otting emailed his business contacts to write letters to Fed Chairwoman Janet Yellen, urging her to rubber stamp the deal.
However, Trump has made no secret about his admiration for tough negotiators, and Mnuchin certainly appears to be one — especially when the American taxpayer is across the table. The CIT acquisition closed despite a level of community backlash that wasn't there for the myriad other bank mergers that have taken place in Los Angeles in the last couple of years, and the loss-share agreement carried over to CIT.
© Copyright IBTimes 2022. All rights reserved.
FOLLOW MORE IBT NEWS ON THE BELOW CHANNELS