Double Exposure: HTC Desire Eye Boasts 13-MP Rear And Front Cameras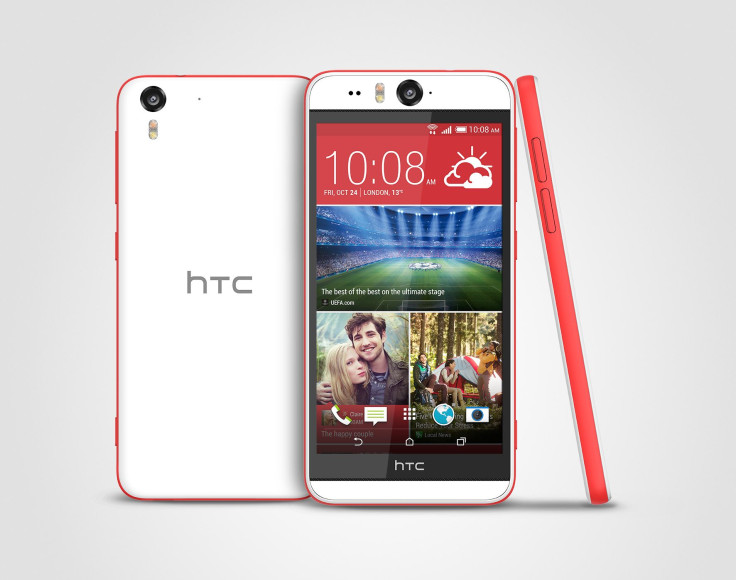 HTC Corp. is set to shake up mobile photography with a new smartphone that includes not one, but two 13-megapixel cameras. The HTC One Desire Eye also comes with new photography software called the HTC Eye Experience.
Most smartphones have a rear-facing camera for taking photos, and a less powerful front camera for first-person perspectives. Many manufacturers have begun marketing "selfie cameras" that have up to 5-megapixel front cameras; however, the HTC Desire features a 13-megaxel-rear camera and 13-megapixel front camera.
The device features a 5.2-inch Full HD display, a colorful unibody design, and is water resistant with an IP 67 rating. But it is the software that truly takes the HTC Desire Eye to the next level. The HTC Eye Experience software addresses such issues like the difficulty of taking selfie photos. It lets users hold a device up for two seconds in camera mode to automatically take a picture. Users can also user voice prompts like "say cheese" for photo and "action" for video to snap the shutter or to begin recording.
With two high-power cameras on the HTC Desire, the device can take advantage of the HTC Eye Experience feature that allows users to take a photo with the front camera and capture video with the rear camera simultaneously.
Users can employ face tracking when using their front camera for video conferencing, which will ensure that the person's face is always in the shot. The feature can track up to four faces at one time for group video conferencing, and will display all parties on screen in a grid pattern.
The HTC Eye Experience also brings screen sharing to the smartphone. Similar to the popular PC feature, users can share what is on their screen with others while in a video conference. For example, a user can open their camera app and share images while video chatting.
In addition to the HTC Desire Eye, the HTC Eye Experience will be available on the HTC One M8 through an automatic update next month.
© Copyright IBTimes 2023. All rights reserved.