Dow Jones Industrial Average Closes Down 100 Points Ahead Of European Central Bank Meeting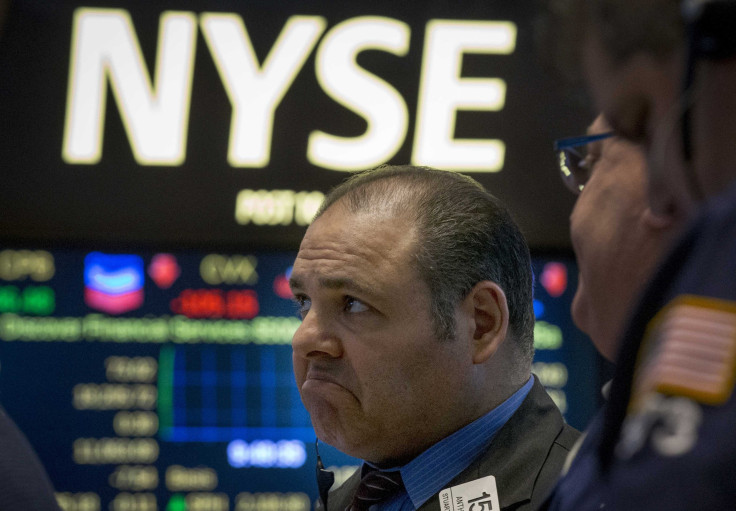 U.S. stocks closed lower Wednesday for the second straight session following a series of mixed data points, including a report that revealed private-sector job creation slowed last month. The report painted a mixed picture of the U.S. labor market, causing investors to pause after a rally earlier this week, since it is widely used as a pre-indicator of the government's jobs report, due out Friday.
The Dow, which measures the share prices of 30 large industrial companies, lost 106.47 points, or 0.58 percent, to end at 18,096.90. The S&P 500 stock index fell 9.25 points, or 0.44 percent, to end at 2,098.53. The Nasdaq Composite lost 12.76 points, or 0.26 percent, to finish at 4,967.14.
Economists are looking ahead to Thursday's European Central Bank meeting that could reveal clues as to when it will begin its quantitative easing, or "QE" program, announced earlier in the year. The economic calendar Thursday also includes weekly jobless claims, or the number of Americans filing new claims for unemployment insurance. Last week, data revealed initial claims for state unemployment benefits jumped by the most since December 2013 for the week ended Feb. 21, climbing 31,000 to a seasonally adjusted 313,000, the U.S. Labor Department said Thursday.
The jump in jobless claims paints a mixed picture of the U.S. labor market following Wednesday's weaker-than-expected ADP report, and ahead of the government's highly anticipated jobs report for February, issued Friday. Economists expect initial claims for unemployment benefits to decline by 18,000 to 295,000 for the week ended Feb. 28, according to analysts polled by Thomson Reuters.
All three major U.S. indices moved little in afternoon trading following a report that showed the U.S. economy continued to expand at a "moderate" pace in January through mid-February, despite harsh winter weather across the U.S., the Federal Reserve's "Beige Book" said Wednesday.
Following the central bank's report, U.S. oil prices closed higher, boosted on hopeful signs the economy continues to improve. West Texas Intermediate crude, the benchmark for U.S. oil prices, fell $1.01 to close at $51.53 a barrel, for April 15 delivery on the New York Mercantile Exchange. Brent crude, the benchmark for global oil prices, lost 60 cents, to end at $60.42 a barrel, for April 15 delivery on the London ICE Futures Exchange.
Oil prices had declined earlier in the trading session, hovering around $50 a barrel, after crude inventories surged to the highest ever on record, causing concerns over a supply glut. Separately, data Wednesday showed private-sector job creation grew less than expected in February, with a gain of 212,000 for the month, the slowest pace since August 2014, according to a report from ADP.
© Copyright IBTimes 2023. All rights reserved.