Dow Jones Industrial Average Drops Despite 1.6% Gain From Apple Inc Ahead Of Earnings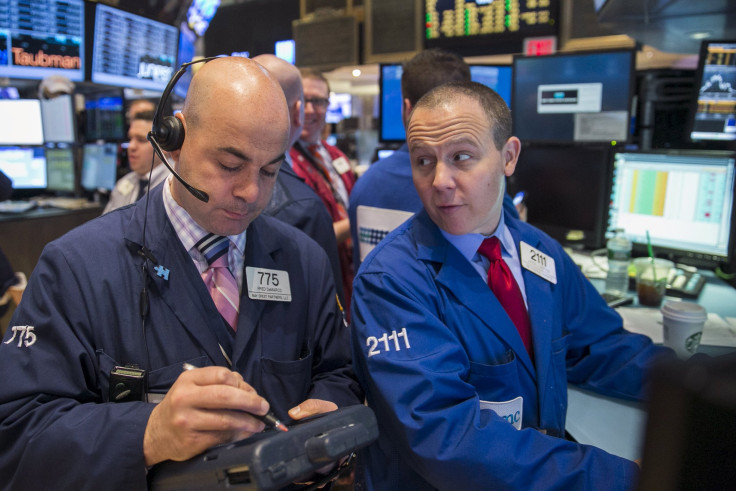 U.S. stocks closed lower Monday, despite the Standard & Poor's 500 hitting an intraday record as biotechnology stocks weighed on the Nasdaq composite and Standard & Poor's 500, driven by declines from drug developer Celladon Corp. and pharmaceutical company Mylan NV. However, shares of Dow component Apple Inc. (NASDAQ:AAPL) leaped 1.6 percent to close at $132.40 as the company prepares to release its latest quarterly results after the closing bell.
The Dow Jones Industrial Average (INDEXDJX:.DJI) dropped 42.17 points, or 0.23 percent, to close at 18,037.97. The S&P 500 (INDEXNASDAQ:.IXIC) lost 8.77 points, or 0.41 percent, to end at 2,108.92. The Nasdaq composite (INDEXSP:.INX) fell 31.84 points, or 0.63 percent, to finish at 5,060.25.
The S&P 500 hit an intraday record of 2,125.92 in morning trading, boosted by strong gains from iPhone-maker Apple. However, the S&P Biotech exchange traded fund (ETF) dropped more than 5 percent in afternoon trading as shares of Mylan NV (NASDAQ:MYL) dropped more than 5 percent after the pharmaceutical company rejected a $40 billion unsolicited bid from rival Teva Pharmaceutical Industries Ltd.
The Nasdaq also was weighed down after the Nasdaq Biotechnology ETF dropped 4 percent after shares of Celladon Corp. (NASDAQ:CLDN) plunged 80 percent to an all-time low of $2.76. The drug developer said it expects to announce layoffs to cut costs after its lead experimental gene therapy to treat heart failure failed a key trial.
Notable companies reporting on Tuesday include Twitter Inc., Pfizer Inc., Merck & Co. Inc., Ford Motor Company and Kraft Foods Group Inc. Analysts forecast first-quarter earnings for S&P 500 companies will drop 2.9 percent from a year ago, which is better than April 10 estimates for a 5.6 percent decline, according to Bloomberg data. Of the S&P 500 companies that have already reported first-quarter results, 77 percent have beat profit forecasts and 50 percent topped sales estimates.
Economists are looking ahead to the U.S. Federal Reserve's two-day policy meeting, which kicks off Tuesday, followed by a statement from the Federal Open Market Committee Wednesday at 2 p.m. EDT. Investors look for clues to the timing of the Fed's rate hike, which most economists anticipate will happen in late spring or early fall.
Ahead on the economic calendar, the Case-Shiller home price index for February is released at 9 a.m. EDT, followed by the Conference Board's consumer confidence report for April, due out at 10 a.m. EDT.
© Copyright IBTimes 2023. All rights reserved.