Dow Jones Industrial Average Opens Down As Investors Look To European Central Bank Move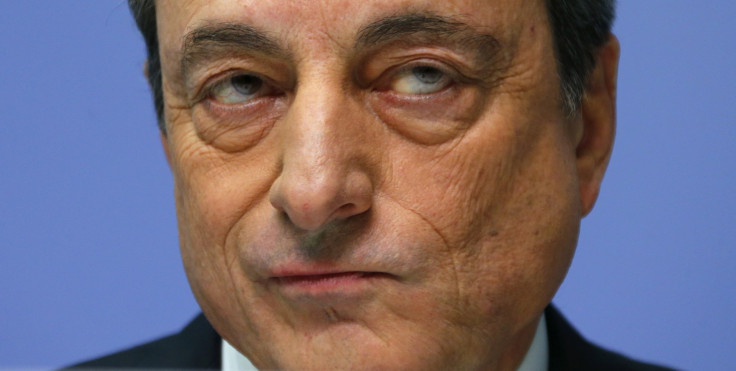 The Dow Jones Industrial Average was down slightly in early trading on Wednesday, a day ahead of a highly anticipated announcement from the European Central Bank (ECB) to implement a bond-buying program to fight deflation risk. Lukewarm news about U.S. new-home construction didn't have a significant impact on the morning's market trading.
The Dow, which measures the share prices of 30 large industrial companies, was down 18 points, or 0.1 percent, at 17,497.02 minutes after the opening bell. The S&P 500 stock index was up nearly 4.53 points, or 0.22 percent, at 2,027.08. The Nasdaq Composite climbed 11.96 points, or 0.26 percent, at 4,666.80.
"Traders are in a wait-and-see mode," said Sarhan Capital CEO Adam Sarhan. "There is a lot of pent-up anticipation for Thursday's European Central Bank meeting. After the Swiss shocker a lot of people think they preemptively struck ahead of the ECB meeting."
The Swiss National Bank shocked markets last week by lifting a cap on the value of the Swiss franc against the euro, which makes Swiss goods and services more expensive in Europe. If the ECB announces a bond-buying program on Thursday, as most analysts expect, the euro's value will fall further. The move is aimed at spurring growth, but it would also make exports to Europe more expensive.
With fourth-quarter 2014 earnings season well underway, Factset analysts see profit growth at its weakest since the third quarter of 2011, with just 0.36 percent growth on average for the S&P 500 compared to the fourth quarter of 2013. A big earnings miss announced after markets closed Tuesday from International Business Machines Corp. (NYSE:IBM), the world's largest technology services company, added to investor concerns of a lackluster earnings season.
Meanwhile, Brent crude, the global benchmark oil price, was up almost 2.5 percent, at $49.17 a barrel. U.S. West Texas Intermediate closed Tuesday at $46.39 a barrel.
The U.S. Commerce Department said Wednesday that new- home construction was up 8.8 percent in 2014, slower than the rate of construction in the previous two years. U.S. housing starts, measure by permits issued to begin building new homes, increased 4.4 percent in December compared to the previous month, to a seasonally adjusted 1.09 million units. But this is still well below an average month before the Great Recession and less than half the record high of 2.27 million in January 2006, according to the Wall Street Journal.
Safe Havens
Amid speculation of the ECB's move and questions about whether Switzerland's surprise move last week will spark a franc-euro currency war, investors were piling into safe havens on Wednesday. Gold prices were rising Wednesday morning in New York, topping $1,300 for the first time since August, according to the Chicago Mercantile Exchange.
The German government's bond yields dropped to record lows, with the German five-year bond paying zero percent for the first time, according to Reuters, as investors fled to the safety of German Bunds in anticipation that the ECB would begin a government bond-buyback program (also called printing money since it increases the amount of currency in the market in return for higher government debt) to stimulate the economy and stave off deflation.

Germany began offering the no-yield five-year bond because debt with maturity of up to six years fell below zero, an unusual phenomenon where Germany charges investors to store their money in bonds.

The U.S. 10-year Treasury dropped three basis points to 1.781 percent, its lowest since early May 2013. Like German bond yields, Treasury yields drop when demand for them rises as they do when investors are seeking protection from volatility.
Earnings Season Shifts To Tech Companies
Financial-sector earnings disappointed last week. JPMorgan Chase & Co. (NYSE:JPM), America's largest bank, reporting a 6.6 percent drop in fourth-quarter profit. The bank's shares were up 0.24 percent to $55.96 at the opening bell on Wednesday. The bank's stock is down nearly 3.74 percent in the past 12 months.

IBM shifted the earnings-season focus toward technology companies by announcing Tuesday after markets closed a sharp 12 percent drop in year-over-year fourth-quarter revenue. IBM's shares were down over 3 percent to $152.24 at the opening bell on Wednesday after falling. The company's share price is down over 19 percent over the past 12 months.
© Copyright IBTimes 2022. All rights reserved.
FOLLOW MORE IBT NEWS ON THE BELOW CHANNELS