Wall Street's Week Ahead: Dow Jones Industrial Average Wavers After China's Economy Expands At Its Slowest Pace Since 1990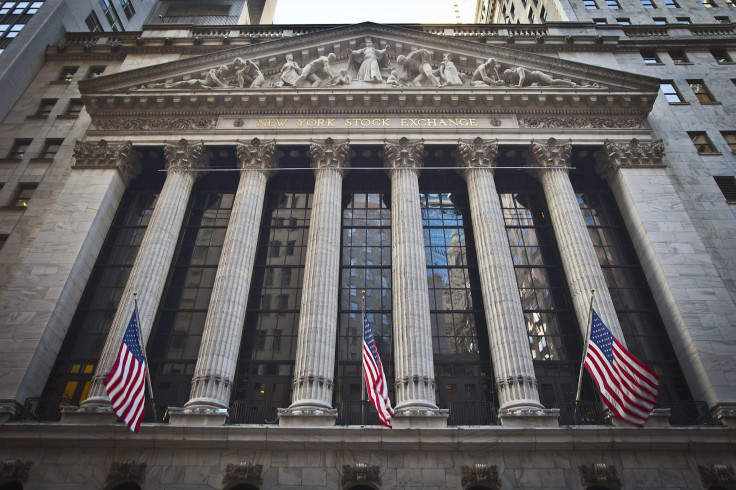 U.S. stocks fell slightly on Tuesday, with the Dow Jones Industrial Average currently down more than 90 points in morning trading after news that China's economy expanded at its slowest pace since 1990. Although China's economy grew at a slightly faster pace than economists had expected, the country's annual growth rate still hovered at its weakest level since the global financial crisis.
Earlier Tuesday, the Dow Jones Industrial Average, which measures the share prices of 30 large industrial companies, gained 38.6 points, or 0.22 percent, at 17,550.17; the S&P 500 stock index added 7.27 points, or 0.36 percent, at 2,026.69. The Nasdaq Composite rose 24.87 points, or 0.54 percent, at 4,659.26.
China's Economy Expands At Its Slowest Pace In 24 Years
China, the world's second-largest economy, reported gross domestic product for the fourth quarter and full year Tuesday, and it was the first time since 1999 that the country had missed an annual growth target for GDP. The country's economy grew at its slowest pace in five years in the previous quarter, a worrisome sign that a global slowdown in growth could begin to hit the U.S. economy.
China's fourth-quarter gross domestic product grew 1.5 percent, down from 1.9 percent in the third quarter and less than consensus expectations. For the full year, China's economy expanded at 7.4 percent, which was above analysts' forecasts. Economists had expected China's economy to expand at a 1.7 percent rate for the fourth quarter and 7.2 percent for 2014, according to analysts polled by Thomson Reuters.
The country had set a growth target of 7.5 percent GDP in 2014 amid economic challenges after growing at 7.7 percent in 2013. China's economy grew 7.3 percent year-on-year in the third quarter, its slowest pace in five years, and below growth of 7.5 percent in the second quarter.
Although 7.4 percent year-on-year growth is still a much more rapid pace of growth than in the U.S. or the European Union, the slowdown is expected to have a profound effect on China's real estate sector and industrial production. The results come ahead of U.S. fourth-quarter and full-year GDP figures, scheduled for release on Jan. 30.
Japan To Release Monetary Policy Statement
The Bank of Japan will release its monetary policy statement Wednesday following its policy meeting after the world's third-largest economy shocked the financial markets in October and unexpectedly fell into recession in the third quarter. Economists are closely watching the extent of any revisions on the country's growth and inflation forecasts, as well as Gov. Haruhiko Kuroda's comments on the importance of lower oil prices.
Data last month revealed that Japan's economy contracted more than expected in the July-to-September quarter, igniting concerns about the country's multipronged economic revitalization program known as "Abenomics."
Data in December showed Japan's GDP for the most recent quarter contracted at an annualized 1.9 percent rate, higher than the initial 1.6 percent annual rate reported in November, igniting concerns about Abe's effort to spur growth.
After falling into recession, Japan surprised the global financial markets after the Bank of Japan agreed to inject 80 trillion yen, or $720 billion, into the economy through its quantitative easing program.
So far, the rise in revenue is only partly a result of the sales tax hike in April 2014, when the country's consumption tax was increased from 5 percent to 8 percent. "Consumption tax revenue has risen by around 1.5 trillion yen since the end of 2013, but the experience from the last sales tax hike in 1997 suggests that the bulk of the rise in revenue has yet to come," London-based Capital Economics said in a research note Friday.
But economists expect that fading fiscal headwinds will bolster the country's demand.
"Despite surging tax revenues, we doubt that the government will reach its target of halving the primary deficit in the coming fiscal year. However, fading fiscal drag should at least ensure that the economy returns to growth," Capital Economics said.
Economists expect policymakers will stay the course at the upcoming BoJ meeting and merely lower their inflation forecasts for the next fiscal year slightly.
Japan is scheduled to report fourth-quarter and full-year GDP on Feb. 15.
ECB To Decide Further Monetary Stimulus As Eurozone Continues To Struggle
The European Central Bank will conclude its first meeting of 2015 this week to decide whether the troubled eurozone will need further monetary stimulus. Europe faces mounting deflationary fears as the area teeters on a triple-dip recession.
The most pressing concern weighing on the global economy is Germany. The country, Europe's biggest economy, is showing signs of weakness after slashing its growth forecasts for both 2014 and 2015.
Most economists expect the ECB will announce a quantitative easing, or monetary stimulus program following the meeting, but some analysts say the governing council may disappoint "high expectations."
"It is virtually certain that the ECB will announce some form of quantitative easing at its Governing Council meeting on Jan. 22," Capital Economics said Thursday. "But given the ECB's natural caution and Germany's objections, we're not very confident that the program will be big and effective enough to revive the eurozone economy or eliminate the risk of a prolonged bout of deflation."
ECB President Mario Draghi warned at the last meeting in December that falling oil prices wouldn't necessarily have a positive impact on the eurozone.
The European Central Bank will announce its latest monetary policy decision on Thursday at 7:45 a.m. EST., followed by a press conference with ECB President Mario Draghi at 8:30 a.m. EST.
Economists To Sort Through U.S. Housing and Manufacturing Data This Week
Economists will sort through a series of U.S. housing data this week, with the National Association of Home Builders scheduled to release its housing market index on Tuesday, followed by the U.S. Commerce Department's housing starts for December on Wednesday. The Federal Housing Finance Agency Home Price Index for November is issued on Thursday and the National Association of Realtors' existing-home sales report for last month is published on Friday.
The U.S. Commerce Department's Wednesday data on new residential construction projects last month that includes housing starts will be closely monitored. New-home construction in the U.S. topped 1 million on an annualized rate in November, while housing starts fell 1.6 percent and building permits declined 5.2 percent last month. Groundbreaking on new homes in the U.S. fell 1.6 percent, to a seasonally adjusted annual 1.028 million unit pace, in November, the Commerce Department said in its New Residential Construction Report last month. November's housing starts, which are considered to be a critical indicator of U.S. economic strength, were revised up to a 1.045 million unit rate. Meanwhile, housing permits fell 5.2 percent last month, to a 1.035 million unit pace.
Analysts will also get a sneak peek into the health of the global manufacturing sector Friday when financial information services firm Markit releases its preliminary "flash" Purchasing Managers Index January report for the U.S., Germany, France and the eurozone. The index is used as an indicator of the economic health of the global manufacturing sector. Also Friday, HSBC is slated to issue its preliminary Purchasing Managers Index for China, an early indicator of economic health in the Chinese manufacturing sector.
Here's the latest economic calendar for the week of Jan. 19. All listed times are EST.
Monday, Jan. 19
Martin Luther King Jr. Day. No major U.S. economic data scheduled.
Tuesday, Jan. 20
10 a.m. -- home builders' index (Jan.)
Non-U.S.:
China -- gross domestic product (Q4)
Germany -- ZEW Survey of Economic Sentiment (Jan.)
New Zealand -- consumer price index (Q4)
Wednesday, Jan 21
8:30 a.m. -- housing starts (Dec.)
Non-U.S.:
Japan -- Bank of Japan monetary policy statement; BoJ press conference
Canada -- Bank of Canada monetary policy report, interest rate decision
United Kingdom -- Bank of England minutes
United Kingdom -- unemployment rate (3M)
Thursday, Jan. 22
8:30 a.m. -- weekly jobless claims (Jan. 17)
9 a.m. -- FHFA home price index (Nov.)
Non-U.S.:
Europe -- ECB monetary policy statement and press conference; interest rate decision
Friday, Jan. 23
8:30 a.m. -- Chicago Fed national activity index (Dec.)
9:45 a.m. -- Markit manufacturing PMI (Jan.)
10 a.m. -- existing-home sales (Dec.)
10 a.m. -- leading indicators (Dec.)
Non-U.S.:
France -- Markit manufacturing PMI (Jan.)
China -- HSBC manufacturing PMI (Jan.)
Germany -- Markit manufacturing PMI (Jan.)
Europe -- Markit manufacturing PMI (Jan.)
Canada -- consumer price index
© Copyright IBTimes 2022. All rights reserved.
FOLLOW MORE IBT NEWS ON THE BELOW CHANNELS