Dow Jones Industrial Average Trades In Narrow Range As Wall Street Braces For Federal Reserve Announcement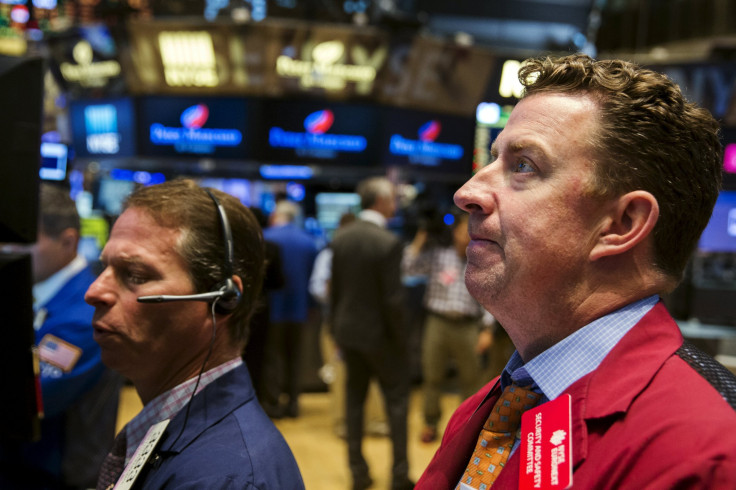 This story was updated at 12:20 p.m. EDT
U.S. stocks traded in a tight range Thursday afternoon as investors brace for a statement from the Federal Reserve that could mark the first increase in interest rates in nearly a decade. The Federal Open Market Committee will issue an announcement at 2 p.m. EDT, followed by a press conference from Fed Chair Janet Yellen at 2:30 p.m.
"Everyone is waiting on pins and needles," Paul Springmeyer, senior portfolio manager at the Private Client Reserve at U.S. Bank, said. "If the Fed leaves rates unchanged, that certainly lends to a greater amount of uncertainty. Conversely, if they do raise today that gives a little bit more confidence behind the strength of the U.S. economy."
The Dow Jones Industrial Average (INDEXDJX:.DJI) rose 16 points, or 0.10 percent, to 16,755. The Standard & Poor's 500 index (INDEXSP:.INX) edged up 2.45 points, or 0.12 percent, to 1,998. The Nasdaq composite (INDEXNASDAQ:.IXIC) added 14 points, or 0.3 percent, to 4,903.
Seven of the 10 S&P 500 sectors traded higher, led by utilities, while telecom stocks dropped nearly 2 percent. Dow component Verizon Communications Inc. (NYSE:VZ) led the index lower, shedding 3 percent.
Dow Jones Industrial Average ($DJI) Stock Price - Trailing Year | FindTheBest
Economists are almost evenly split about the prospects of a U.S. rate hike this week, with the Bloomberg consensus poll showing 39 economists looking for no change in the federal funds rate, while 41 are looking for a hike of 25 basis points, or a quarter of 1 percent. The financial markets, however, are currently pricing in only about a 30 percent chance of a rate hike in September.
Regardless of whether the Fed announces lifting rates Thursday, Steve Barrow, head of G10 strategy at Standard Bank, expects the Fed funds target to move to the 2.5 to 3 percent range over the course of the next few years. It is currently 0.25 percent.
"We don't know whether the Fed will raise rates later today. But what we do know with a reasonable amount of certainty is that rates will start to rise at some point and keep going for some time before other major central banks lift their own rates, with the likely exception being the Bank of England," Barrow said in a research note.
Global shares traded mixed ahead of the central bank's announcement, with China's benchmark Shanghai Composite index closing down 2 percent, while Japan's Nikkei index closed up 1.4 percent.
European stocks closed slightly higher, with Germany's DAX finishing up 0.02 percent while and France's CAC added 0.2 percent.
Federal Funds Rate - Historical Changes | Credio
Groundbreaking on U.S. single-family homes declined in August, while building permits rebounded, signaling strength in the housing market. Housing starts declined 3 percent in August to 1.126 million at a seasonally adjusted annualized rate, while starts were 1.161 million in July, revised down from 1.206 million, the Commerce Department said Thursday.
Part of the decline came from the expiration of a tax credit for multifamily construction in New York state, Stuart Hoffman, chief economist at PNC Financial Services Group, said in a research note. Multifamily starts dropped 45 percent in the Northeast from July to August.
"The August decline in housing starts was expected, given the expiring tax incentives, and does not indicate problems in the housing market," Hoffman said. "Homebuilding will continue to lead overall economic growth into 2016, and job gains in residential construction are contributing to the better labor market."
Meanwhile, housing permits rose 3.5 percent to 1.170 million in August, from an upwardly revised 1.130 million in July.
Separately, fewer Americans filed new applications for unemployment benefits last week, marking the 28th straight week that claims remained below the 300,000 threshold, the longest such stretch since the 1970s. Claims below the 300,000 threshold are considered a mark of a strengthening labor market.
Initial claims for state unemployment benefits dropped 11,000 to a seasonally adjusted 264,000 for the week ended Sept. 12, the Labor Department said Thursday morning. Economists had forecast claims would remain steady at 275,000 last week, according to analysts polled by Thomson Reuters.
Oil prices traded lower Thursday, a day after U.S. crude rallied nearly 6 percent after crude oil inventories unexpectedly fell. West Texas Intermediate crude, the benchmark for U.S. oil prices, fell 0.8 percent to $46.79 per barrel for October delivery on the New York Mercantile Exchange. On the London ICE Futures Exchange, Brent crude lost 1.2 percent to $49.14 a barrel.
© Copyright IBTimes 2022. All rights reserved.
FOLLOW MORE IBT NEWS ON THE BELOW CHANNELS