Dozens Killed In Fighting Near Yemen's Aden Port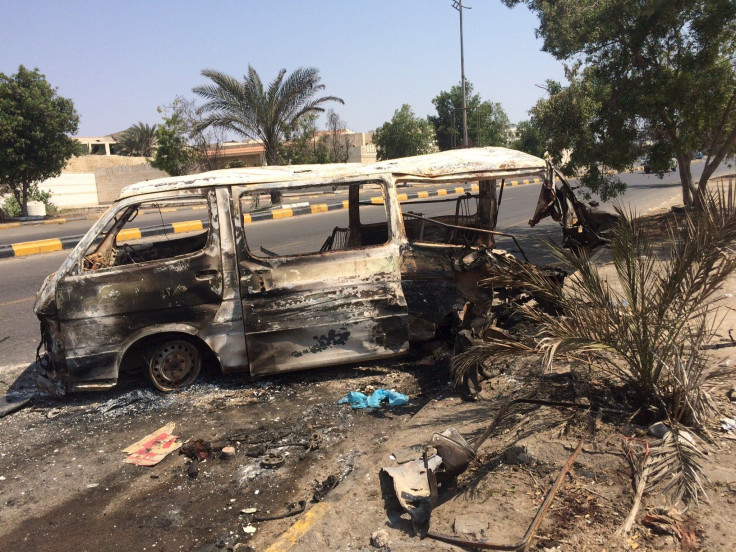 (Reuters) - Houthi fighters and allied army units clashed with local militias in the southern Yemeni city of Aden on Sunday, and eyewitnesses said gun battles and heavy shelling ripped through a downtown district near the city's port.
The Houthi forces have been battling to take Aden, a last foothold of fighters loyal to Saudi-backed President Abd-Rabbu Mansour Hadi, advancing to the city center despite 11 days of air strikes by a Saudi-led coalition of mainly Gulf air forces.
Sunni Muslim Saudi Arabia launched the air strikes on March 26 in an attempt to turn back the Iran-allied Shi'ite Houthis, who already control Yemen's capital Sanaa, and restore some of Hadi's crumbling authority.
The air and sea campaign has targeted Houthi convoys, missiles and weapons stores and cut off any possible outside reinforcements - although the Houthis deny Saudi accusations that they are armed by Tehran.
The fighting has failed so far to inflict any decisive defeat on the Houthis, or the supporters of former president Ali Abdullah Saleh who are fighting alongside them, but the growing death toll and humanitarian suffering has alarmed aid workers.
The United Nations said on Thursday that more than 500 people had been killed in two weeks of fighting in Yemen, while the International Committee of the Red Cross has appealed for an immediate 24-hour pause in fighting to allow aid into Yemen.
A pro-Hadi militia source said 36 Houthi and allied fighters were killed on Sunday in Aden's central Mualla district, near the port, while 11 of Hadi's combatants died.
Houthi forces initially advanced towards the port area, but hours later had been pushed back several streets towards an army base.
"There are bodies in the streets and we can't get close because there are Houthi snipers on the rooftops. Anything that gets near they shoot at, and the shelling on Mualla has been indiscriminate," a medic told Reuters.
POWER CUTS
Valentina Abdul Kareem, an Aden council member, called on both sides to implement a ceasefire so that civilians could be evacuated. "Aden is going through a humanitarian and health crisis," Abdul Kareem said.
Residents and merchants said stores had largely run out of produce, milk and other foods due a lack of access to the rocky peninsula city, whose main routes to agricultural hinterlands lie through the battle zones.
At least two main city districts have been without power for days after a rocket knocked out a main power station on Friday, and other areas suffered repeated cuts. Water has also been cut from some central districts.
Both Saudi Arabia and the Houthis say they are ready for talks which could return Yemen to the political transition which started when Saleh stood down in 2012 following huge street protests against his rule, inspired by wider Arab uprisings.
But they have set out incompatible conditions for the talks and neighboring Oman, which often steers an independent course in the Gulf and has stayed clear of the Saudi-led military operations, said last week that neither side was ready for negotiations.
A senior Houthi member said on Sunday the group is ready for peace talks as long as the Saudi-led air campaign is halted and negotiations are overseen by "non-aggressive" parties.
The fighting is only one of many conflicts in the Arabian Peninsula's poorest nation, which also faces tribal unrest, a simmering separatist movement in the south, and a threat from Al Qaeda in the Arabian Peninsula (AQAP) in the east.
U.S. military personnel carrying out a covert drone war against AQAP were withdrawn last month after the Houthis advanced south towards Aden, close to the base out of which they operated.
In the eastern coastal town of Mukalla, tribesmen deployed on the streets, pushing al Qaeda fighters out of much of the town just three days after the militants overran it, residents said.
The tribal fighters entered Mukalla on Saturday, pledging to restore security after the militants broke into its jail on Thursday, freed a local al Qaeda leader, ransacked banks and took over local government buildings.
France said its navy evacuated 63 people including French nationals from Aden on Sunday. Turkey said it evacuated 230 people, including non-Turkish citizens, by plane from Sanaa.
(Additional reporting by Noah Browning in Dubai and Yara Bayoumy and Mohammad Ghobari in Cairo, Gus Trompiz in Paris and Tulay Karadeniz in Ankara; Writing by Dominic Evans; Editing by Stephen Powell)
© Copyright Thomson Reuters 2023. All rights reserved.
FOLLOW MORE IBT NEWS ON THE BELOW CHANNELS