Yemen Crisis: Houthis Want Televised Negotiations, End To Airstrikes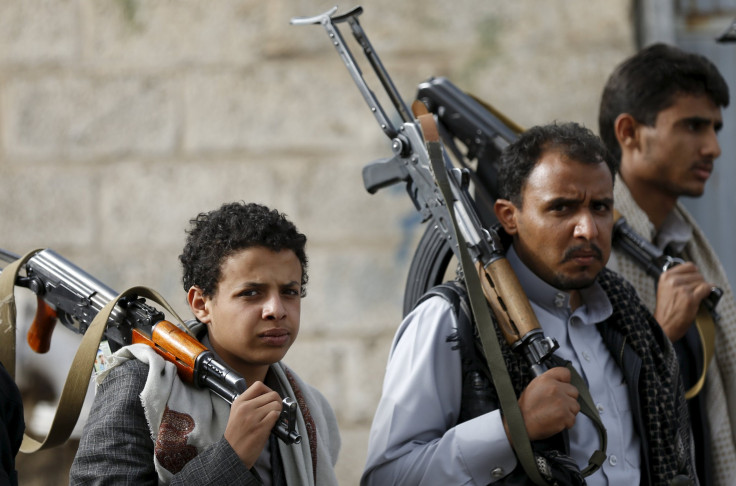 Houthi rebels in Yemen are ready to talk peace with the government of President Abed Rabbo Mansour Hadi as long as a coalition led by Saudi Arabia agrees to halt its air campaign against the rebels based in northern Yemen. A representative of the rebels told Reuters they wanted negotiations to be broadcast on Yemeni television and mediated by foreign states with no stake in their outcome.
Despite the support of the Saudi-led coalition, forces loyal to Hadi continue to lose ground to the Iranian-backed Houthis supported by pro-rebel army units. Rebels are fighting to take the southern port of Aden, a stronghold where Hadi set up his government late last year when Houthi militants took Yemen's capital, Sanaa. Hadi fled to Saudi Arabia from Aden on March 25 when it became clear loyalist forces were losing their fight against the Houthis. Saudi Arabia and its allies hope to restore Hadi to power, but the Houthis reject that prospect.
"We stand by our position on dialogue and we demand its continuation despite everything that has happened, on the basis of respect and acknowledging the other," said Saleh al-Sammad, a senior Houthi member and former advisor to Hadi, adding that Yemenis do not want Hadi back in power.
The United Nations brokered peace talks between Hadi's government and the Houthis in September of last year, but they fell apart shortly afterwards and violence resumed. Russia presented a draft resolution to the U.N. Security Council calling for a humanitarian ceasefire, which was backed by the Red Cross. That ceasefire would allow foreign states to evacuate the last of their citizens from Yemen, which many have been doing over the last few months as fighting escalated. More than 500 people have been killed and 1,700 wounded in the last two weeks.
A ceasefire could pave the way for lasting peace talks as well. The U.S., a permanent security council member, is providing logistical support to the Saudi-led coalition. The U.S. prefers Hadi, a strong ally in the region, to stay in power. The United Kingdom's deputy representative at the security council expressed his country's support for the Saudi coalition as well. An agreed-upon draft of Russia's resolution is expected on Monday following weekend negotiations. It is unclear what Hadi and his government seek to win through negotiations, as many experts agree Hadi must step down to avoid the further escalation of violence.
© Copyright IBTimes 2023. All rights reserved.