Dr. Seuss Trivia 2015: 6 Lesser-Known Facts About 'The Cat In The Hat' Writer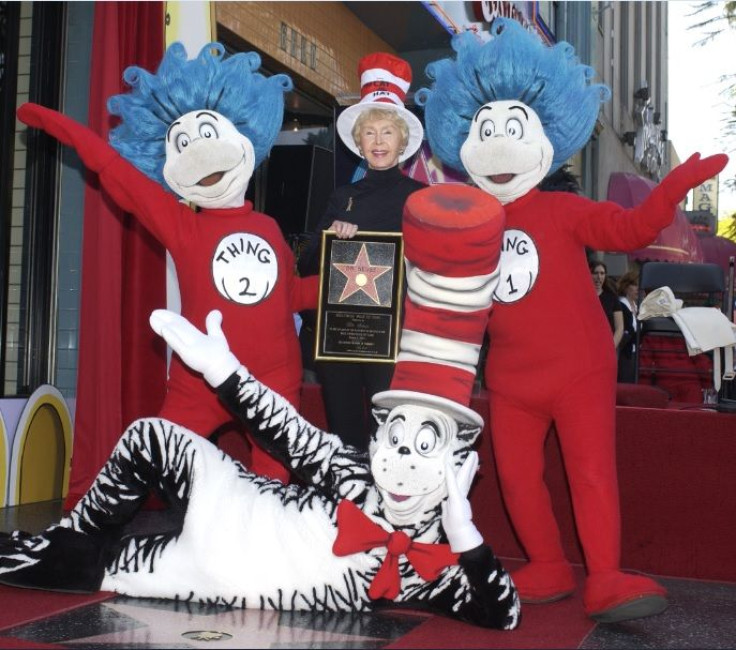 If he were alive today, Dr. Seuss would have turned 111 on Monday, March 2. The beloved "The Cat in the Hat" author wrote dozens of books, many of which are still best-sellers. To celebrate his birthday, some lesser-known facts about the famed writer have been shared below, courtesy of Biography.com, Early Moments, Flavor Wire and TheFW.com.
1. Dr. Seuss wasn't his real name, and he wasn't a doctor.
Dr. Seuss' real name was Theodor Seuss Geisel. Seuss, his middle name, was also his mother's maiden name. He began to use the pen name Seuss in college at Dartmouth after he was kicked out of his college's humor magazine Jack-O-Lantern for drinking in his dorm during prohibition. He continued to submit stories through Seuss. He later adopted "doctor," a nod to his father who dreamed of him getting a doctoral degree. He also used the name Theo LeSieg, Rosetta Stone and Dr. Theophrastus Seuss.
2. "Green Eggs and Ham" was written on a dare.
After the "Cat in the Hat" was such a success with only 220 vocabulary words, Dr. Seuss was dared by his publisher to write a book with only different 50 words. Thus, "Green Eggs and Ham," one of his favorite works, was born.
3. He didn't like children, but he had make-believe ones.
His second wife Audrey famously told the Associated Press during a 2004 interview that her late husband didn't think much of children, even though he wrote for them. She said he was always thinking, "What might they do next? What might they ask next?" She added, "No, he couldn't just sit down on the floor and play with children. It was none of that. He just had to do what he had to do, and they loved him. And he loved them for loving what he did."
But he did have imaginary children. Chrysanthemum Pearl, Norval, Wally, Wickersham and Thnud would all sign the family holiday card.
4. He didn't like being asked where he got his ideas.
For some people, it's hard to describe from where inspiration comes. And that's the way it was with Dr. Seuss. When asked where he got his ideas, he would say, "I get all my ideas in Switzerland near the Forka Pass. There is a little town called Gletch, and 2,000 feet up above Gletch, there is a smaller hamlet called Über Gletch. I go there on the fourth of August every summer to get my cuckoo clock fixed. While the cuckoo is in the hospital, I wander around and talk to the people in the streets. They are very strange people, and I get my ideas from them."
5. His first wife committed suicide.
Dr. Seuss cheated on his first wife Helen with their friend Audrey Stone Diamond. She was in bad health, emotionally affected by the affair and overdosed on pills in 1967. "My going will leave quite a rumor but you can say I was overworked and overwrought. Your reputation with your friends and fans will not be harmed," her note reportedly said. A year later, he married his mistress, Audrey.
6. He created the word "nerd."
Dr. Seuss might not have come up with as many words as William Shakespeare, but there is one popular term that he coined that people still use today: nerd. The first time the word was ever used was when "If I Ran the Zoo" was published in 1950.
Follow me on Twitter @mariamzzarella.
© Copyright IBTimes 2023. All rights reserved.
FOLLOW MORE IBT NEWS ON THE BELOW CHANNELS