Drake-Meek Mill Feud: Nicki Minaj's Boyfriend Posts Cryptic Messages, Users Discuss Mill's Career On Instagram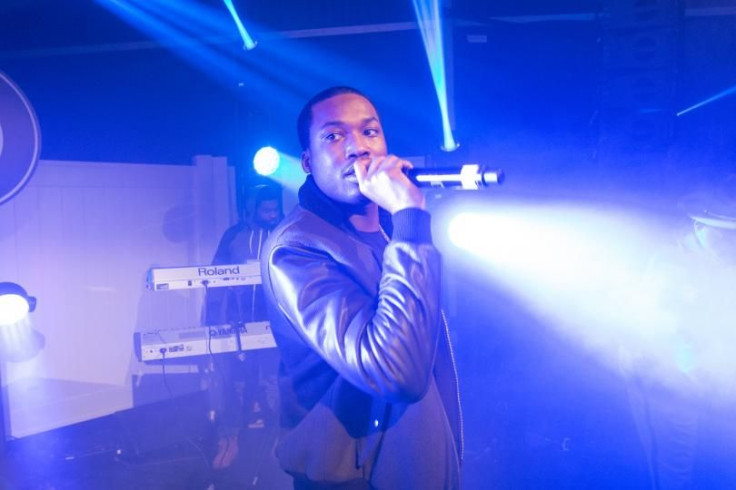 Social media users have been commenting on Meek Mill's feud with Drake and how it has affected the Philadelphia rapper's career. The comments surfaced on two cryptic posts shared by Mill on Instagram Sunday.
In one post, Nicki Minaj's boyfriend shared a photo himself, captioning it: "We the kids that never made them proud.... We the ones that been thru what we lived to stand out!"
In another post, Mill shared a quote that reads, "if the vibe is off, we off," captioning it: "Only rock with the vibes."
It was unclear what Mill tried to convey through the two posts, but social media users linked them to his beef with Drake.
"Meek is trash. Plus his career was ended by Drake," one user wrote, while another wrote: "Only reason Drake fans like him because he makes them feel comfy with being corny."
A third user wrote: "Meeks garbage .. Without Drake," while another comment about Mill read: "This n----- career is really going downhill..taking mad long to come out with new music after getting bodied by Drake...is about to go to jail and might even delay it longer."
Drake and Mill's feud, which began in July, seems to be never-ending and fans speculate that the 29-year-old singer has won the battle after his "Back to Back" diss track was nominated for the Grammy Awards.
Mill and Drake got into a public spat after the "All Eyes on You" rapper took to Twitter and told people not to compare him with Drake because he doesn't write his own rap songs. Drake responded with two diss songs, "Charged Up" and "Back to Back," while Mill fired back with "Wanna Know."
Amid the ongoing tiff, Mill's career is facing a big blow due to his legal troubles. Mill was found guilty of violating his probation for a 2009 drug and gun case.
According to TMZ, the 28-year-old rapper is losing thousands of dollars due to his canceled gigs. Mill was recently scheduled to travel to Los Angeles to record some music, but will not be able to go due to his parole violation case. Mill and Minaj were also supposed to perform at a New Year's Eve show in Las Vegas, but the former won't be a part of the show.
Mill's friend Chris Brown was upset the rapper was found guilty of violating his probation and bashed the American legal system in a Twitter rant.
"The system is set on bulls---. The DAs and JUDGES get just as high as the next man and f--- people's lives up," he wrote Dec. 17. "I ain't on probation so I can tell y'all kiss my a--!"
Mill is scheduled to return to court Feb. 5 for his sentencing.
© Copyright IBTimes 2023. All rights reserved.