'Dying Light' Release Date Next February: Trailer Reveals Four Player Co-op Mode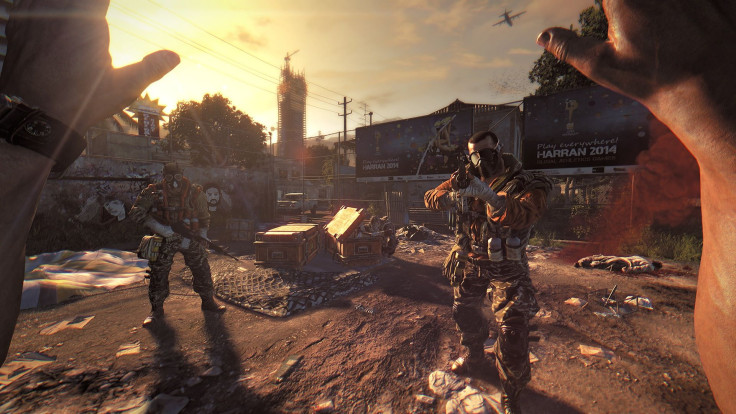 It's time to get excited for Techland's coming zombie survival game "Dying Light." The brutal title, which already includes a slew of cool weapons and the ability to perform parkour, recently launched a trailer that shows the ability to play in co-op mode with four people. Warner Bros., the game's publisher, revealed the trailer just a few days before Gamescom, which kicks off in Germany next week.
Check out the trailer below.
"Up to 4 players will be able to team up to face the dangers of the day and the terrors of the night – two distinct sides of 'Dying Light's' gameplay," the studio said in a press release on Friday.
During the Electronic Entertainment Expo in Los Angeles in June, we spoke to "Dying Light's" game producer Tymon Smektala, who talked about different ways the title could be played.
"It's a single-player game at heart, but you can also play four player co-op. You can play the whole campaign with other people. We also have a player-versus-player mode, which is called 'be the zombie,' and you can play as a zombie and invade other people's games. It's really fun," Smektala told us during E3.
In "Dying Light," which is told from a first-person perspective, you can explore the open world, search for items and battle the undead. Players can equip themselves with weapons like a spiked baseball bat, a pistol and an electric ax. You can also swim through water, climb walls and explore the rooftops of buildings.
"We really think it is something that will evolve the genre. In normal FPS games, you have to move through corridors, you stick to a path. In our game, you can go everywhere. If you see anything you can reach, you can go there," Smektala added.
"Dying Light" will be available on five platforms – the Xbox One, Xbox 360, PlayStation 3, PlayStation 4 and PC. It will launch sometime during February next year.
The game's development began as a sequel to "Dead Island," but was turned into a new game because it would contain a variety of new features.
© Copyright IBTimes 2023. All rights reserved.