Early Adopters' Curse: Tesla Motors Shares Fall After Model X Customers Cite Quality Issues With Recently Introduced SUV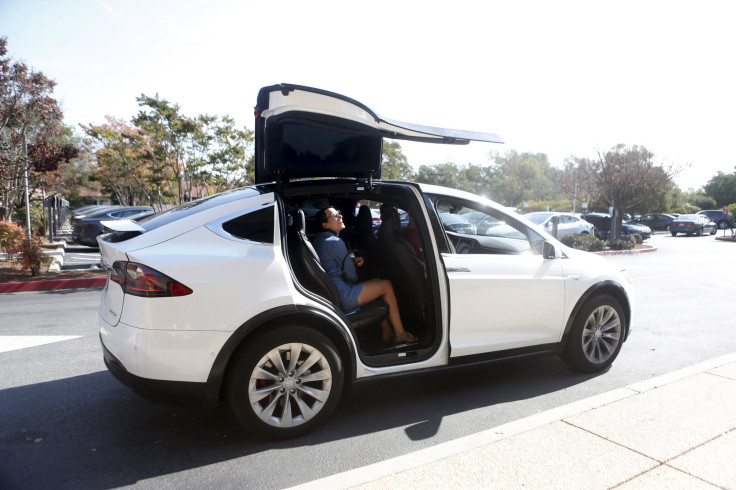 Tesla Motors shares fell Tuesday after Consumer Reports magazine cited issues with the company's Model X utility vehicle, which began deliveries to early buyers in September. Underscoring the problems that can arise for early adopters of new products, the magazine pointed to the vehicle's biggest engineering challenge: its articulated "falcon wing" doors.
Shares in the Palo Alto, California, electric car company (NASDAQ:TSLA) plunged nearly 5 percent in intra-day trading as investors sold on the report, but the price recovered to end the day about 2.6 percent lower, at $247.37. The stock extended losses into after-hours trading.
"Consumer Reports recommends against buying a vehicle in its first year of production — especially a ground-up vehicle with the incredible complexity of a Tesla," the widely read product reviewer said Tuesday.
The most notable problem has been the rear passenger door, which has posed considerable challenges and led to a lawsuit in January against a German supplier for allegedly misrepresenting its engineering claims.
Consumer Reports cites two significant problems with "early build" Model X vehicles: "falcon wing" doors that either failed to close or bumped into obstacles they should have detected, causing slight damage, and visual distortion at night from the long, curved windshield that causes the driver to experience "double vision" of headlights, taillights and street lamps.
Tesla Motors Inc. (TSLA) | FindTheCompany
A Tesla owner also reported that the AutoPilot hands-free driving feature became "confused" when a road's shoulder ended, requiring the driver to take command. (Semi-autonomous driving features relies partly on clear road line markings to maintain lane discipline.)
Tesla CEO Elon Musk had said in the past that the "falcon wing" door design was a primary cause of previous delays to the introduction of the vehicle, originally scheduled for early 2014. The company began delivering the car to customers in September 2015.
Tesla issued a statement saying the defects in "early Model X builds" are not "widespread."
Consumer Reports has given the Tesla Model S luxury electric sedan high praise for performance and innovation, but lower-than-average marks for reliability. In 2014, reviewers cited problems with the Model S, but nearly all of them said the company was responsive to quickly fixing the problems.
Earlier this month Tesla unveiled a working prototype of the Model 3 electric compact sedan with a starting price of $35,000 before add-ons. The company has received about 400,000 pre-orders for the car, which won't begin deliveries until the end of 2017.
Ryan Brinkman, a J.P. Morgan automotive equities analyst, said Tesla could face considerable challenges to delivering all 400,000 of these vehicles by the end of 2019, much less build and sell that many in a single year. By 2020, Tesla says it's aiming to sell 500,000 cars annually, mostly from Model 3 orders.
"I'm not sure you can take that 400,000 number and say they can do that in 2020," he said Tuesday during a conference call. "I still think there are a lot of reasons to be skeptical about Tesla."
Tesla has sold about 126,000 cars since it was founded in 2003, including a small number of the discontinued Roadster built from 2008 to 2012.
© Copyright IBTimes 2022. All rights reserved.
FOLLOW MORE IBT NEWS ON THE BELOW CHANNELS