Earnings Preview: Macy's Inc (M), Target Corporation (TGT) To Reveal Financial Health Of US Consumer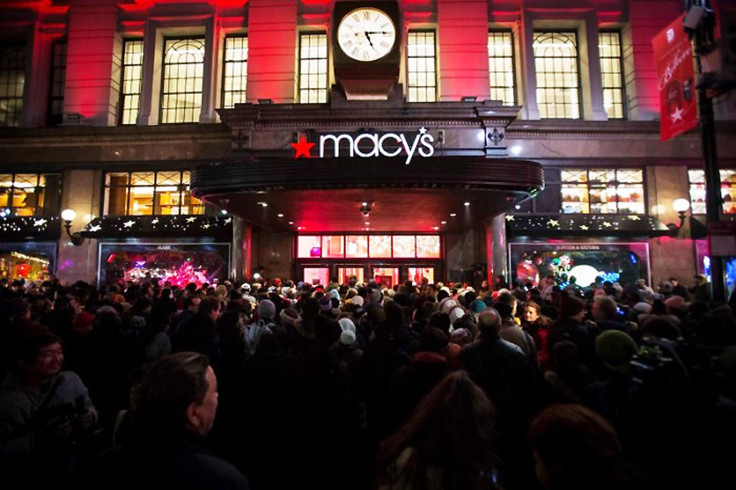 This week 10 retailers from the S&P 500, including Macy's Inc. and Target Corporation, will report earnings, kicking off the final leg of the fourth-quarter earnings season. Analysts expect retailers to post an uptick in revenues during the holiday quarter even though overall U.S. retail spending fell more than anticipated at the end of 2014. A steep drop in gasoline prices across the country is expected to boost retailers, especially those that cater to middle- to low-income consumers.
Last week, retail giant Wal-Mart Stores Inc. smashed Wall Street expectations, setting the tone for the retail sector's health during the busy holiday shopping season. Expectations for S&P 500 earnings growth for the fourth quarter remain at 6.1 percent, while revenues are anticipated to come in with 1.8 percent growth, according to research firm Estimize. With more than 420 S&P 500 companies having reported ahead of Monday, about 55 percent have beaten Estimize's consensus forecasts, while 37 percent have missed and 8 percent have met.
Economists view retail sales as a key economic indicator since consumer spending accounts for nearly two-thirds of U.S. economic activity. Analysts will focus on revenue results from retailers at the end of 2014 as holiday sales can account for up to 40 percent of their annual revenue.
"The holiday quarter is a time of strength across the board in both retail sales and mobile sales, with positive trends in mass market and luxury segments," said Manish Chandra, chief executive officer at mobile and online retail marketplace Poshmark Inc.
Gasoline prices across the U.S. are still hovering near six-year lows due to the precipitous drop in crude oil prices since June. The decline helped send U.S. gasoline prices down to an average $2.27 per gallon at the end of 2014, according to Gasbuddy.com. Gasoline prices are currently averaging $2.30 per gallon across America, down $1.10 from a year ago.
"Typically in the retail environment, as gas prices fall and the cost of living remains stagnant, spending at retail outlets tend to increase. We would expect to see that in the earnings of the major players in the retail space because those are good tailwinds in the U.S. economy for them, given that consumer confidence is on the rise," said Steve Beck, founder and managing partner of business consulting group cg42.
Macy's
Department store Macy's Inc. (NYSE:M) saw its revenue miss Wall Street forecasts in the third quarter, causing the retailer to lower its earnings outlook for 2014. Meanwhile, Macy's same-store sales, a key metric in the retail sector, dropped 1.4 percent in the previous quarter, concerning investors. Same-store sales compares the sales of stores that have been open for at least one year and allow investors to determine what portion of new sales has come from sales growth and what portion can be attributed to the opening of new stores.
Analysts will be eyeing Macy's holiday revenue after the company opened its stores at 6 p.m. on Thanksgiving Day, two hours earlier than in 2013, in an attempt to boost holiday sales. "Macy's continues to do an amazing job in driving traffic from both mobile and physical retail in an integrated manner. Their mobile app has grown and is consistently placed as one of the top apps," said Chandra.
Macy's announced in October it plans to open its first Macy's department store and its second Bloomingdale's outside the U.S. in a shopping center being built in the United Arab Emirates capital, Abu Dhabi. The mall is expected to open in the spring of 2018. Macy's also announced the acquisition of beauty products and services provider Bluemercury for $210 million in early February.
After cutting its outlook in November, Macy's lifted its full year earnings guidance to $4.35 to $4.37 per share earlier this month.
Wall Street expects Macy's on Tuesday to report fiscal fourth-quarter net income of $830.75 million, or earnings per share of $2.39, on revenue of $9.39 billion, according to analysts polled by Thomson Reuters. That compares with net income of $868.09 million, or earnings per share of $2.31, on sales of $9.2 billion during the same period a year ago.
Target
Target Corporation (NYSE:TGT), the second-largest U.S. general merchandise retailer, reported third-quarter earnings and revenue that beat Wall Street estimates in November. Following the company's massive data breach at its stores during the 2013 holiday season, Target took steps to boost holiday sales with free shipping on online orders ahead of the holidays. The retailer also incorporated Apple Pay support into its mobile store when the payments system was announced.
Target's new CEO Brian Cornell announced in January the company is closing 133 Canadian stores and laying off more than 17,000 employees after the two-year Canadian venture was unprofitable. Following the announcement, Target revised its earnings outlook higher, driven by stronger-than-expected sales during Black Friday and the Christmas holiday shopping season. Target also forecast digital sales to exceed 40 percent of its revenue for the holiday quarter. The company now expects adjusted earnings per share of $1.43 to $1.47, which is about 6 cents higher than previous expectations.
Analysts forecast Target on Wednesday will post fiscal fourth-quarter net income of $924.63 million, or earnings per share of $1.46, on revenue of $21.64 billion, compared with net income of $611 million, or earnings per share of 90 cents, on revenue of $21.52 billion a year earlier.
Economists expect lower gasoline prices to boost consumer spending at retailers like Macy's and Target throughout this year. "Consumers are taking some of the money saved on lower gas prices and using it to boost their savings, but I think they will be spending more in 2015," said Gus Faucher, senior macroeconomist at PNC Financial Services Group.
Chandra agrees. "Oil is causing a little bit of a disturbance for the financial markets, but for consumers in America, directly it's a positive," said Chandra. "Psychologically, it's a huge boost to the consumer."
© Copyright IBTimes 2023. All rights reserved.