EBay Unveils Plans To Spin Off PayPal In 2015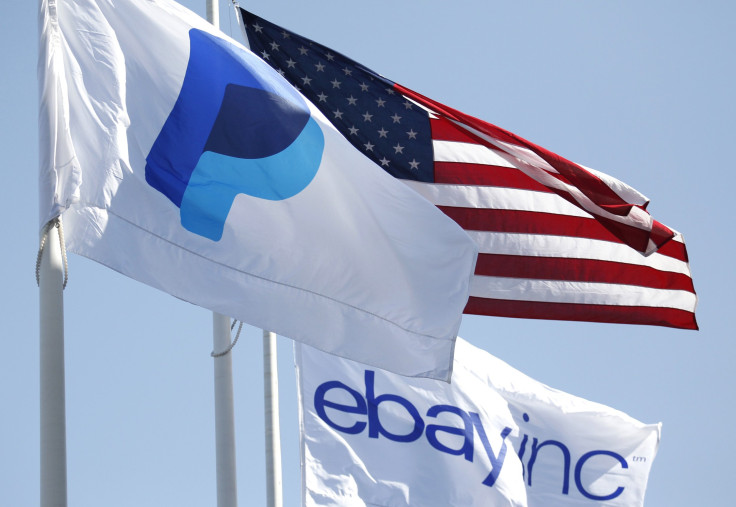 EBay Inc. unveiled plans on Tuesday to separate the e-commerce giant and PayPal into independent publicly traded companies in 2015, a move activist investor Carl Icahn demanded earlier this year.
The move pleased Wall Street; shares in eBay jumped 7 percent to $56.35 in morning trading on the NASDAQ. In the wake of the mega-IPO of Alibaba Holdings Ltd., and the introduction of new competition in mobile payments from the likes of Apple and Google, both eBay and PayPal are facing big threats to their core business.
"They [eBay] were strategically placed as the first to offer online payments, but then they stopped innovating in their space," said Adam Sarhan, CEO of Sarhan Capital. "Others like Apple Pay and Google Wallet are really trying to bring it to the next level. Why should the everyday Joe use PayPal as opposed to Apple Pay? Until they can answer that question, they have a real dilemma."
As part of the spin-off, Donahoe and chief financial officer Bob Swan will step down from their roles but retain board seats. The company announced the appointment of former American Express exec Dan Schulman as the new president of PayPal effective immediately. Schulman will become PayPal's chief executive officer in the second half of 2015, following the planned separation of the business. Devin Wenig, currently president of eBay Marketplaces, will become CEO of the new eBay company.
"It's clear that the market for commerce and the market for payments is going through accelerated change and the competitive environment is changing at a very fast and exciting rate," John Donahoe, eBay president and chief executive officer, said during a conference call with shareholders on Tuesday. "This creates great opportunities for both eBay and PayPal."
EBay said PayPal "continues to lead and innovate in mobile payments" with acquisitions such as Braintree and One Touch, the industry's first single touch payments experience. Although PayPal processed $27 billion in mobile payments volume in 2013 and expects to process 1 billion mobile transactions in 2014.
In the U.S., mobile proximity payments, which include payments made using a phone to make a physical transaction at the point of sale, will reach $3.5 billion in 2014, according to eMarketer, an independent market research company. By 2018, that figure is expected to reach $118 billion.
Icahn said earlier this year spinning off PayPal would help shareholders while removing possible conflicts of interest. Investors will be looking ahead to eBay's fiscal third-quarter earnings call with shareholders on Oct. 15, and Sarhan said analysts will want to know two key things: where the company is headed and what is going to replace PayPal?
"This spin off will force eBay to focus more on their core competency and do more on what's working. That could help eBay streamline their operation, function better and reemerge as a leader in the online auction space," Sarhan said. "The way that eBay previously innovated was by acquiring, and PayPal has been their best acquisition so far. EBay now needs to figure out how they can reemerge as a leader in their space and overcome the competition."
The company expects the spinoff, which is subject to regulatory approvals, to be completed by the second half of 2015. During eBay's
conference call
with shareholders, CFO Swan confirmed the company's fiscal third-quarter guidance. The e-commerce company is expected to report earnings on Oct. 15 after the U.S. markets close.
"As independent companies, eBay and PayPal will enjoy added flexibility to pursue new market and partnership opportunities," Donahoe said. "And we are confident following a thorough assessment of the relationships between eBay and PayPal that operating agreements can maintain synergies going forward."
© Copyright IBTimes 2022. All rights reserved.
FOLLOW MORE IBT NEWS ON THE BELOW CHANNELS