Elaine Chao, Secretary Of Transport, Caught In McConnell-Trump Feud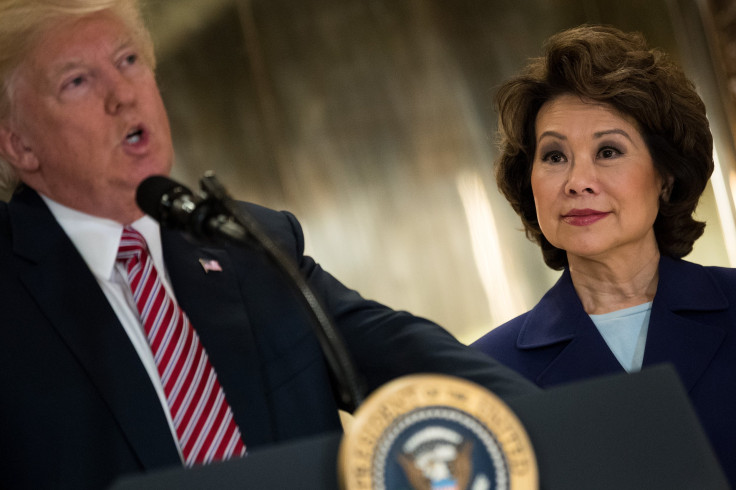 A rough road lays ahead for Secretary of Transportation Elaine Chao as she firefights on multiple fronts.
Amid calls for her resignation by Asian American groups for failing to condemn violence by white supremacists at Charlottesville, Virginia, Chao is also facing the heat of a cold war between her boss, President Donald Trump, and her husband, Majority Leader of the Senate Mitch McConnell.
According to the New York Times, the president has not spoken a word to McConnell for weeks, while the latter is privately questioning if Trump will be able to salvage his presidency from the number of crisis his administration has become embroiled in.
The professional bond between the two started straining after the Senate failed to pass the Republican healthcare bill to replace Obamacare.
When Trump made his disappointment clear on social media, McConnell criticized the president's lack of understanding of the workings of legislative processes.
"Our new president, of course, has not been in this line of work before," said McConnell told reporters, according to CNN. "I think he had excessive expectations about how quickly things happen in the democratic process."
Trump immediately fired back at McConnell on Twitter for his statement.
Trump also berated McConnell via a phone call, accusing him for his lousy efforts toward pushing the healthcare bill and failing to protect him from investigations of Russian interference in the 2016 election, according to a Times report.
If the tiff between the two is complicating her life, Chao is not letting it show in public. According to Independent, when she was asked about her views on Trump openly criticizing her husband, she simply said: "I stand by my man – both of them."
On the other hand, Asian Pacific American Labor Alliance (APALA), the Korean Resource Center, and the National Asian Pacific American Women's Forum (NAPAWF) among several other groups signed and submitted a written statement on Aug. 17, demanding Chao's resignation if she failed to "make a public statement supporting fellow immigrants who rely on DACA and TPS to work, study, and dream of a better future."
"Secretary Elaine Chao stood by President Trump as he blamed both sides for the racist acts that took place in Charlottesville, essentially equating white nationalist hate groups with anti-racist protesters," the letter read. "As Asian Americans, we call on Secretary Elaine Chao, an immigrant from Taiwan and woman of color, to be silent no more and stand by us as we fight to protect the DACA and Temporary Protected Status (TPS) programs."
The demand comes after Chao, who's an immigrant from Taiwan, said that the incident at Charlottesville was an example of "hateful behavior and it is not who we are as Americans," but refrained from distancing herself from Trump's claim that there was blame on "both sides" when it came to taking responsibility for the violence at the protest rally.
"To me, it felt like crossing a line when she couldn't even stand up and speak out about what was going on in Charlottesville," Sung Yeon Choimorrow, NAPAWF's executive director told the Huffington Post. "To basically endorse whatever Trump was saying ... that's really crossing the line as a person of color. I don't understand how she doesn't see that she's one of the people the [white supremacists] would target."
© Copyright IBTimes 2023. All rights reserved.