Election 2016: 'Chelsea's Mom' Is Hillary Clinton's Fan Love Song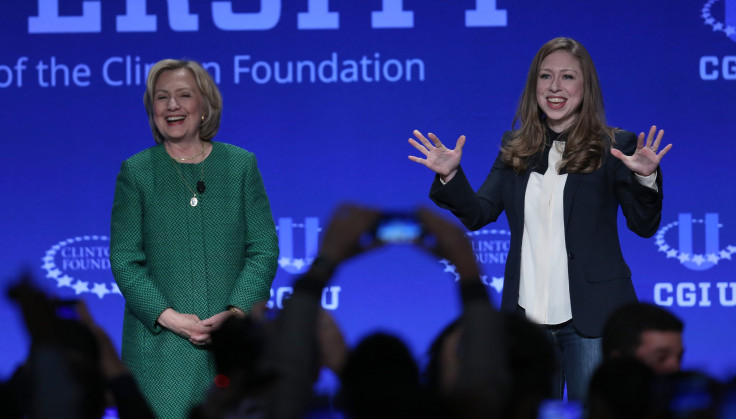 WASHINGTON -- The 2016 election has its first fan song. Hillary Clinton is the recipient of a love song, of sorts, from the New York City-based group Well-Strung. It's a reworking of the 2003 hit "Stacy's Mom."
In the original Fountains of Wayne song, the singers lusted after their classmate's mother. The Well-Strung version instead sings a song of praise for "Chelsea's Mom" -- a reference to Clinton's daughter -- and features the members dancing around a life-size cutout of of the candidate. Well-Strung is an all-male string quartet that covers pop music and includes vocals.

The group's manager, Mark Cortale, explained Well-Strung is always trying to stay contemporary. "Since this election is so important and relevant, Well-Strung wanted to put their own spin on a classic pop song to show their support of Hillary Clinton in the 2016 race," he told International Business Times. "The guys recorded this song as an unabashed love letter to Hillary, with no expectations or agenda. That said, they would certainly love the opportunity to perform for her."
The video features images of Clinton tossing her hair and smiling at the camera. "Chelsea's mom has got it going on, she's all we want and we've waited for so long, from sea to shining sea, she'll fight for liberty," the lyrics say. "She's sexy and she's strong, I'm going to vote for Chelsea's mom. Chelsea's mom has got it going on."
One verse even jabs at Republicans. "Why should we put up with zealots like Ted Cruz," the group sings. "Anyone but Clinton will give us the blues. We get a lot of drama from the GOP. And sure we loved Obama, but your mom's the one for me."
It seems the campaign had nothing to do with making the video. The group does display a considerable amount of stickers feature the H logo designed by the campaign and several "Vote for Hillary" signs.
Having fans pen a song that can go viral is one of those unplanned occurrences that a campaign can only hope for. In 2012, Republican Rick Santorum became the beneficiary of a viral fan song called "Game On." His campaign then showered attention on the two young Oklahoma women who recorded it. In 2008, Barack Obama was the beneficiary when a young woman known as "Obama Girl" released a song called "Crush on Obama" that went viral.
© Copyright IBTimes 2022. All rights reserved.
FOLLOW MORE IBT NEWS ON THE BELOW CHANNELS