Election 2016: GOP Contender Ben Carson Praises Conservative Values At Al Sharpton Civil Rights Convention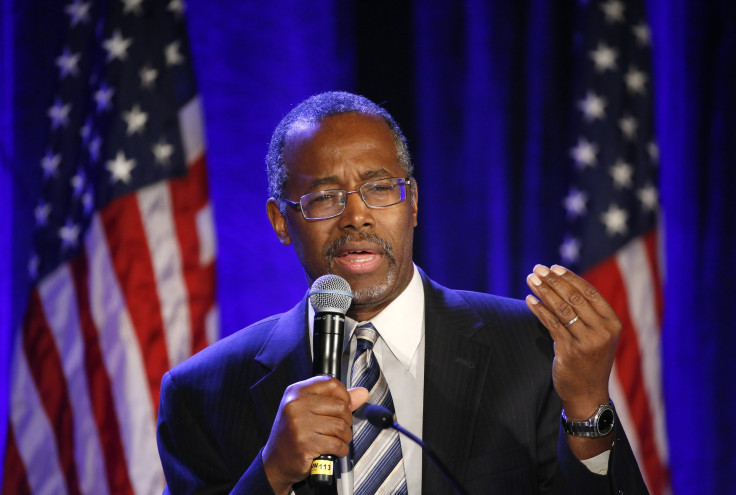 Ben Carson, the African-American neurosurgeon and potential 2016 Republican presidential candidate, addressed a largely black crowd in New York on Wednesday, but he wasn't preaching to the choir. Carson had been invited to address the National Action Network convention organized by activist Rev. Al Sharpton. Carson, who recently came under fire for comments about President Barack Obama, slavery and gay rights, implored the audience to embrace conservative values.
"In the black community, we don't need to wait for other people to help us," said Carson, a 63-year-old native of Detroit, who was warmly received by Sharpton and the largely liberal and Democratic crowd. "What we need to learn how to do is to turn our dollar two or three times in our own community, before it leaves."
During his 45-minute speech, Carson addressed his recent statements that have drawn headlines. In March, his statement that homosexuality is a choice drew swift rebuke from LGBT groups and was mocked by Vice President Joe Biden. Carson did not repeat the original remarks, for which he later apologized. He said his views are not homophobic.
"I don't hate gay people," Carson said. "I just happen to believe that marriage is between a man and a woman. People have said, 'If you don't want them to be married, then you hate them.' I really don't care what any man has to say. I care about what God has to say."
A pediatric neurosurgeon whose nearly three decades in medicine earned him the Presidential Medal of Freedom in 2008, Carson told the audience of his humble beginnings. He said he was raised mostly by his mother after his parents divorced when he was 8. He received considerable applause for his ability to name African-American inventors, in a segment of the speech about at-risk black youths and how he would inspire them to lead exemplary lives.
"By the time [black youths] realize they are not going to be the next Michael Jordan or Puff Daddy, what's left?" Carson asked. But the audience was less receptive when he cited the rate of "out of wedlock" pregnancy and the shrinking number of two-parent black households in the U.S. as avoidable sources of economic disadvantages. "We need to talk about stuff that we don't want to talk about," he said.
Carson clarified other comments that have gotten him into trouble recently, including calling Obama's Affordable Care Act as the worst thing since slavery in the U.S. "There is nothing that compares to it," he said. Carson also rejected the theory of evolution, calling scientists "ignorant" if they rejected creationism "because they can't explain it."
After Carson's speech, Sharpton said there was no doubt that Carson wouldn't be his choice for president. "But if I need surgery, you're my man," he said prompting hearty laughter from the audience.
Last August, Carson formed an exploratory committee to consider a run for the White House in 2016. A Public Policy Polling survey released last week showed Carson losing ground to Republican presidential candidate and U.S. Sen. Ted Cruz of Texas, dropping from 18 percent to 10 percent support among like primary voters. On Wednesday, Carson did not hint if he was closer to officially jumping into the race.
© Copyright IBTimes 2023. All rights reserved.