On Elvis Presley's 81st Birthday, Conspiracy Theories Remain About His Death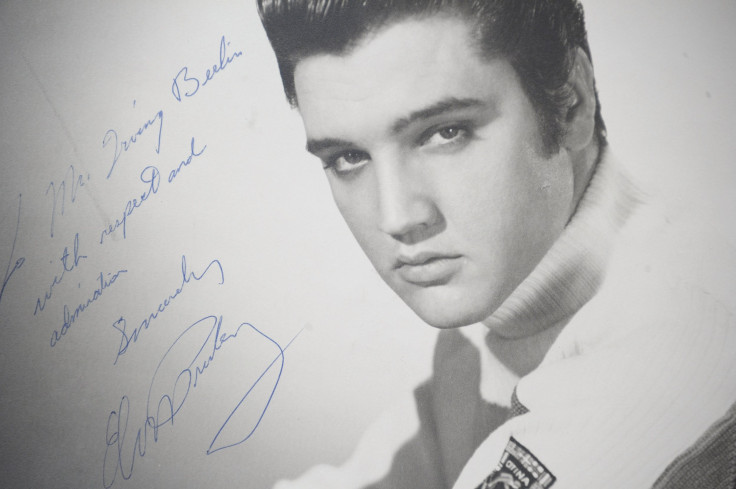 Friday would have been Elvis Presley's 81st birthday, and the United States is celebrating. Legacy Recordings was set to release a 60-CD box set of the King's music, Graceland was due to auction off more than 100 Elvis items and Memphis was holding an Elvis Presley Day in memory of the rock 'n' roll legacy. Many of the events will be attended by impersonators, as the famous musician himself died Aug. 16, 1977.
Or, at least, that's what they want you to think. Elvis Presley is the subject of multiple conspiracy theories, and there are people who insist he's alive to this day.
"I believe that Elvis was forced to go into hiding due to death threats against himself and his family. I also believe that he wants to come back to his fans while there is still time but the powers that be are making more with him 'dead,'" conspiracy theorist Mickey Moran writes on his website, thepresleyassignment.com. "I now believe that he is being forced to stay in hiding against his wishes. I want to help him do the ultimate 'Comeback Special.'"
Moran and other Elvis fans have spent years collecting evidence they say proves the King is not dead. Here are a few inconsistencies they count as proof that Elvis could still be among us:
His cause of death. Elvis's death was initially reported to be the result of a heart attack, but then it changed to accidental drug overdose. Experts blamed cardiac arrhythmia, or an irregular heartbeat. David Stanley, his stepbrother, later said Elvis committed suicide. And then, in 2010, one of Elvis' doctors said untreated constipation killed him, according to unsolved.com.
The autopsy. Elvis' dad, Vernon Presley, ordered the artist's autopsy and death certificate to be immediately sealed. They are scheduled to become available to the public in 2027 -- 50 years after his death, according to preslaw.info.
The body. The National Enquirer published a photo of Elvis in his open casket, though many conspiracy theorists said a wax dummy took his place. Others swore the body was sweating.
His gravestone. Elvis usually spelled his middle name as "Aron," but a copper plaque at his grave in Graceland spells it "Aaron." A Graceland spokeswoman told the Associated Press in 1997 that was intentional, and before his death Elvis told his family he wanted it spelled "the way it is in the Bible" -- with two A's.
The sightings. In 1988, a woman in Vicksburg, Michigan, started telling people she'd seen Elvis at the grocery store. After hearing a similar story, the Elvis Sighting Society in Ottawa, Canada, established an Elvis Lives Lane. There have also been suspicious photos like the pool door picture, which appears to show Elvis at Graceland months after his death, according to whatculture.com.
Amid all this discussion, however, there have been several reports assuring Elvis fans that the king is actually dead. Why do we keep holding on? According to a 2015 story in the Atlantic, it's because Americans aren't quite ready to let him go.
"It is a kind of romantic idea," music professor John Covach told the Atlantic. "This idea that maybe Elvis was just tired of the limelight—and he was starting to get old and he was starting to get overweight—and he decided to fake his own death so he could live anonymously without the glare of the photographers. That seemed attractive to people."
© Copyright IBTimes 2023. All rights reserved.
FOLLOW MORE IBT NEWS ON THE BELOW CHANNELS