Eradicate Boko Haram: Chadian Leader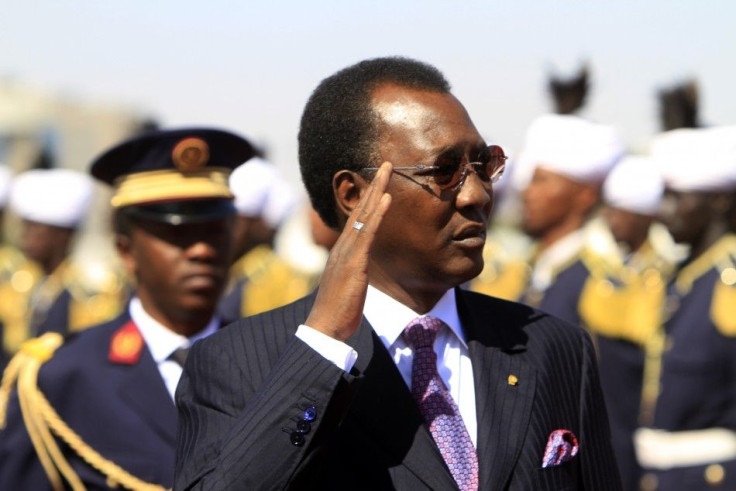 Chadian President Idriss Deby Itno said on Tuesday that a regional security force must be established to stop Nigerian rebel group Boko Haram before it's too late.
Speaking at the Lake Chad Basin Commission, a 16-nation summit taking place in N'djamena, Chad, Deby said that the three-year-old insurgency poses a serious threat to Nigeria's neighbors.
I am demanding the creation of a joint deterrence force. We have to make this decision here today, he said.
Our basin is exposed to insecurity because of the permanent threat posed by Boko Haram.
Now is the time for action. We cannot save Lake Chad without eradicating this Boko Haram sect, Deby said, according to Nigeria's Channels television.
A day before Deby's comments, a suicide bomber thought to be a Boko Haram member killed 11 people after ramming a police convoy in Taraba state, which borders Cameroon. On Sunday, Boko Haram gunmen stormed into a church service and opened fire on worshippers.
Nigerian President Goodluck Jonathan didn't take issue with his Chadian counterpart's agenda. Jonathan has been battling the Boko Haram insurgency since his election in May 2010, so far without much success. At Tuesday's summit, he said that new methods were needed to fight terrorism in the border region, adding that countries like Chad and Niger need to heighten their own security efforts along the border, according to the Nigerian Tribune.
Let us therefore restrategize to ensure that our security plans include the border areas of the Lake Chad region ... it has become urgent to give a new mandate to the multi-national Joint Task Force to include cooperation in dealing with such cross-border insurgency within its area of coverage, Jonathan said, referring to his joint military-police task force.
The president of the Central African Republic, Francois Bozize, agreed that a joint effort is needed to tackle insecurity in the region, and offered to contribute troops to the effort, the AFP reported.
When it was first established, the summit was meant to tackle the preservation of Lake Chad, which is quickly filling with sand and could soon disappear. Because it's the primary source of water and livelihood for people living on its banks, the fight for diminishing resources has bred ethnic and rebel violence.
The threat of Boko Haram has now trumped all other concerns. The rebel group is based in Borno, the northeastern state home to Nigeria's portion of the lake, but it poses a danger to all of Nigeria and its neighbors.
Excluding the riots that resulted in 800 deaths after Jonathan's elections, Boko Haram has been responsible for killing more than 1,000 people in its quest to turn Nigeria into an Islamic Sharia state. It's now believed Boko Haram is building ties to al Qaeda groups in Africa, which could have a dire effect on regional security.
Nigerian authorities said Boko Haram used contacts from the Islamic Maghreb, al Qaeda's North African presence, during the August bombing of the United Nations building in Abuja, and Boko Haram has also been accused of arming Tuareg rebels in Mali.
© Copyright IBTimes 2023. All rights reserved.