Essential Phone's Dual Cameras Explained By Company's Image Quality Engineer
Andy Rubin's Essential PH-1, or more commonly known as the Essential Phone, is expected to ship in a few weeks after an unexpected delay. Now, the company has published a blog post detailing the capabilities of the device's dual cameras.
Essential's image quality engineer Yazhu Ling detailed the technical aspects of the Essential Phone's dual-camera system. The cameras are equipped with one RGB color imaging sensor, while the other comes with a monochrome (B&W) sensor. Both cameras activate when taking photos, and each photo taken by the cameras are merged or fused together to produce superior images.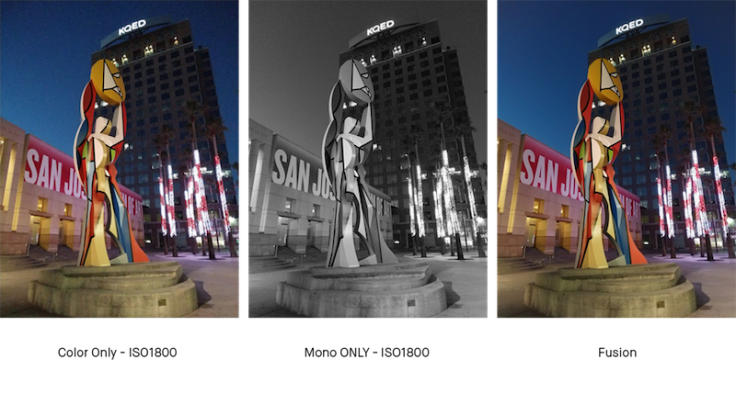 READ: Essential Phone Release Date Delay: Company Loses Several Executives Ahead Of Launch​
"That's why we made our second rear camera a true monochrome camera, which does not require any color filter. The lack of a color filter means that no interpretation is necessary—every pixel is assigned a true black or white value, which enables the camera to produce images with much less noise and much higher resolution, no matter the lighting conditions," Ling explained in the blog post.
This kind of process isn't really new. Huawei did it first for its P9 smartphone back in 2016 and has continued to do so for the Honor 8 and this year's P10. The LG G6's dual cameras also come with this type of setup, while Motorola's recently announced Moto Z2 Force has the same technology.
It seems as though Essential is developing this technology and bringing it to the PH-1. Ling also published samples of high-resolution images taken with the Essential Phone's dual cameras, and it looks like the system is capable of producing photos that are crisp and vibrant with not much noise.
This should also alleviate concerns of some consumers who thought that the dual cameras capture poor quality photos. Back in June, Essential president Niccolo de Masi shared some photos taken with the Essential Phone on his Twitter page and they weren't impressive.
Ling also explained in the blog post that Essential went through a multi-month process of "subjective tuning" for the cameras' software. This has been described as a painstaking process wherein Essential had to teach the Image Signal Processing (ISP) software to produce the right fused picture in various scenarios.

READ: Essential Phone Will Be Compatible To All Major US Carriers, According To FCC Filing​
"Our subjective tuning process began in January 2017, and during that time, we have gone through 15 major tuning iterations, along with countless smaller tuning patches and bug fixes," Ling said. "We have captured and reviewed more than 20,000 pictures and videos, and are adding more of them to our database every day. We're almost there, but I'm not going to stop tuning the camera on our phone until the last possible minute to provide the best photographic experience possible."
Although all of the samples shared by Essential on its blog are already looking quite good, the phone itself needs to start shipping to users before they can actually compare the device's camera technology to other flagship cameras from the likes of the HTC U11 and the Samsung Galaxy S8, as pointed out by Android Authority.
The Essential Phone has been available to preorder since it was first announced in May. At the time, Andy Rubin said that the device would start shipping within 30 days after preorders opened. The company missed its deadline by the end of June.
Just last week, Rubin addressed the delay stating that the Essential Phone was already being put through certification and testing with U.S. and international carriers. He didn't give out a specific shipping date and only stated that it will arrive to customers in a "few weeks."
© Copyright IBTimes 2023. All rights reserved.