Estonia's Election Results See Pro-NATO Party Take Narrow Lead Against Pro-Russians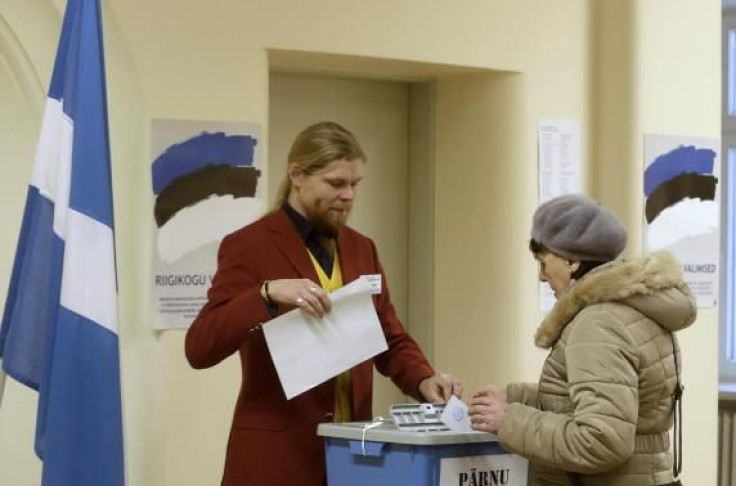 Estonia's ruling Reform Party held a narrow lead in the Baltic country's elections Sunday, Reuters reported. Prime Minister Taavi Roivas' party, the leading partner in the country's coalition government, has 29.2 percent of the vote compared with the Pro-Russian Centre Party's 21 percent with about two-thirds the vote counted.
The elections have largely been overshadowed by concerns about Russian aggression in Ukraine and around the international air space that covers Europe. The former Soviet country watched as Russia annexed Crimea last March and provided assistance for rebels in eastern Ukraine.
While all the votes have yet to be counted, it appears the Centre party, which favors closer ties with Russia, has seen its share of the vote shrink from 23.3 percent in 2011. The pro-NATO ruling party has seen a marginal increase in popularity from 2011, with a 0.6 percent increase over the 2011 results.
Estonian media has already foreseen a victory for the Reform Party, but many of the pro-Russian party's strongholds are due to report later Sunday, making the final results less clear.
Polls taken before the election showed both parties neck and neck although the Centre Party would find it difficult to form a coalition government given that all other major parties have refused to work with it because of its ties to Vladimir Putin's United Russia party.
The Centre party has said it would drop its connection to Russia should it lose this election in the northernmost Baltic country where a quarter of the 1.3 million inhabitants are Russian speakers. The Centre Party gets about 70 percent of the Russian vote.
It's unclear if the assassination of Russian politician Boris Nemtsov Friday affected the vote.
© Copyright IBTimes 2023. All rights reserved.